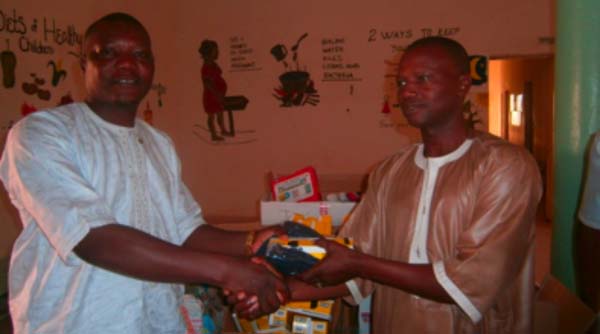 The Rotary Club of Fajara Friday presented some medical items to Sulayman Junkung Jammeh General Hospital in Bwiam, as part of their contribution toward improving the health sector in the country.
The items donated included blankets for patients, sanitary towels, toys for kids, among others, worth D165,000.
The presentation ceremony was attended by some members of the Rotary Club of Fajara, including Sainey Manneh and Minyan Jobe, immediate past president of the Rotary Club and staff of Bwiam hospital.
Speaking at the presentation ceremony held at the hospital in Bwiam, Uzoma Achigbu, a member of the Rotary Club of Fajara, said the club has a tradition of providing such assistance.
"We know that no man has it all, so our policy at Rotary is to make sure that we try as much as possible to address the issues and problems of the world in our own small ways," he said.
According to Achigbu, they have always donated items from their partners all over the world to EFTSH in Banjul.
"We at Rotary Club of Fajara also decided to come down from Banjul to extend some gifts to the upcountry hospitals and health centres," Achigbu added, further stating that most of the donated items are from the Gambia Bird, an airline registered in The Gambia.
He said some of the items are from their counterpart Rotary Club in Laytham and other areas, adding that the items include blankets, clothing materials, as well as children's toys, needles and bandages for medical use, and touch-lights for security purposes.
He challenged the doctors and nurses to share ideas and experiences in order to know their short falls so that the Rotary Club could take it up to improve their working conditions.
He urged the management of Bwiam Hospital to work closely in collaboration with the Rotary Club for the benefit of all.
In receiving the items, the CEO Sulayman Junking Jammeh General Hospital in Bwiam, Kebba Badjie, expressed delight to be associated with the donation of medical items from the Rotary Club of Fajara.
The Rotary Club of Fajara informed him that they have some medical items to present to the hospitals, and they wanted to present items to Bwiam hospital for effective service delivery.
According to Badjie, Rotary is a service which is selfless, and he thanked the Rotary Club of Fajara for giving meaningful services, and assured the donors that the donated items would be judiciously used.
Read Other Articles In Article (Archive)