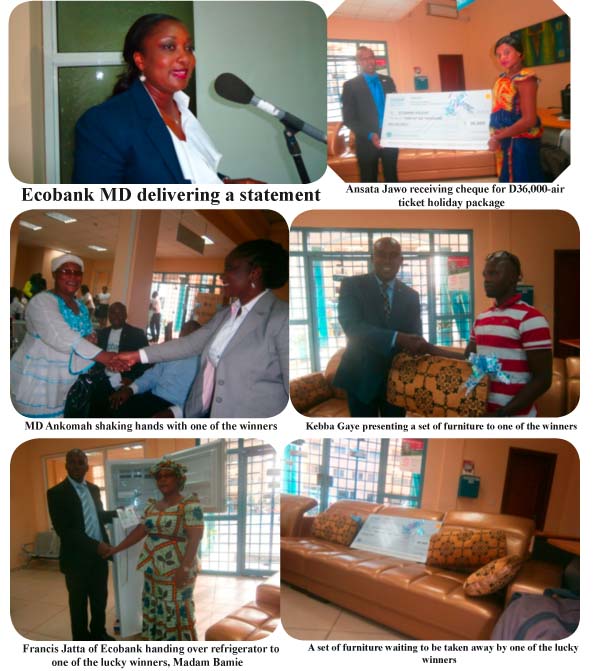 Ecobank Gambia Limited, one of the leading banks in The Gambia, with its parent body operating in thirty-six countries around the world, recently awarded prizes to their esteemed customers who emerged winners of the bank's last deposit mobilization campaign (DMC).
The awarding of prizes was a sign of appreciation and motivation for their esteemed customers for patronizing their bank in the raffle draw.
The three winners were Bamie Claribal Othman, Ansata Jawo and Mbaye Yatt.
The first lucky winner was Bamie Claribal Othman, who received a refrigerator; the second winner was Ansata Jawo, who won a holiday package ticket of thirty-six thousand dalasis to the UK; and the third winner, Mbaye Yatt, won a full set of furniture.
Speaking at the presentation, the Managing Director of Ecobank, Josephine Ankomah, thanked their esteemed customers for being part of the campaign.
She said that without the customers there would be no effective banks, therefore the importance of the customers could not be overemphasized, adding that they appreciated the customers for their continued confidence in Ecobank.
"We thank you very much on behalf of the Ecobank board of directors and on behalf of the management and staff, for your continued commitment to patronising Ecobank," MD Ankomah told customers.
She also said the bank would continue to cherish their customers and serve them well, as well as ensure that at any point in time they have access to the bank.
"You can have access from your home by sending us your retail internet banking platform that allows you to be able to check your balance. You can also check your statement; you can move money from one account to another, and you can also move your bank account from Ecobank to another account," she told customers.
She described all the bank's products, services and transactions as very fantastic, and give customers the convenience they deserve.
She said Ecobank "is the only bank" in the country that had been enabling customers to get their ATM card on the same day at their request.
"So, within a period of five to ten minutes that you come into the banking hall you can open an account; immediately we will give you a card that is branded with your name which you can use instantly at any of our ATMs," she said.
She also said their customers who have got an account and do not have ATM cards are encouraged to go to the bank and would get such cards in space of ten minutes.
The ATM card would allow customers to use any of the ATMs of any bank that has VISA, she added.
"We also offer our customers reliability and deliver on our promise to you; so we are a bank that you can trust," she further assured customers.
"Ecobank is the third largest bank in The Gambia," MD Ankomah also said, whilst assuring customers that because of their confidence bestowed on the bank, they could always win with the bank.
She disclosed that more of such draws would be conducted to show their commitment to and faith in customers as they demonstrate their appreciation for continued business with the bank.
Also speaking at the presentation, Francis Jatta expressed delight at their customers for gracing their deposit mobilization campaign that has been running throughout last year.
"I want to welcome everybody for gracing this occasion as the event is an initiative about Ecobank's strong belief in customers," he said.
Read Other Articles In Article (Archive)