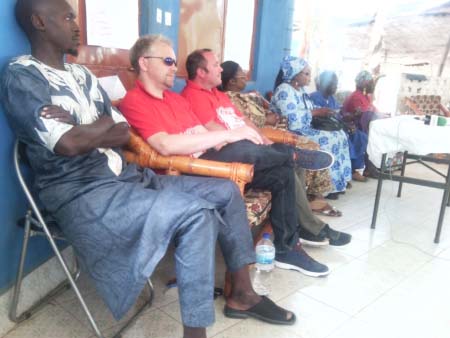 (Issue Tuesday 28 June,2016)
Global Hands Development Gambia has officially opened a library it built in Manduar village, West Coast Region, as part of efforts to complement The Gambia government in education.

Speaking on the occasion, Bakary Saibo Sanneh, chairman of Brikama Area Council, said the launching marks "a very important day" for the community of Manduar and its surrounding.
He commended Global Hands Development Gambia and its main partner, Global Hands UK, for the initiative.
He said the library is very important not only for the community of Manduar but for the entire Gambia.
Mr Sanneh said a country with low education would find it difficult to develop, adding that the library would enhance education development in The Gambia.
"For the community of Manduar, know that there are other communities who are interested in having libraries but they could not get it, so when you are lucky to have one, make use best of it," chairman of BAC said.
Ramou Nyassi, customer care service manager at Gamtel, thanked Dr Sallah for coming with such "an important project", saying education is a basic necessity of life, just like food, clothing and shelter.
"I would like to emphasis that education is a fundamental human right and it is through education that we can bring meaningful change to our society, to our people and to our country and the world at large," she said.
Mrs Nyassi noted that library is an important educational facility in the conduct of research to have certain data and information.
"I would like to seize this opportunity to congratulate Dr Sallah and the entire team of Global Hands Gambia and Global Hands UK for this laudable achievement in bringing such a wonderful library facility to the community of Manduar and the surrounding villages," she stated.
Read Other Articles In Article (Archive)