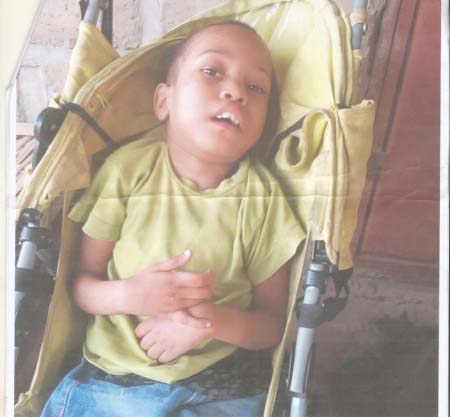 (Issue Tuesday28, June,2016)
One Aminatta Susso of Serekunda, a nine-year-old girl who was delivered by Caesarian section due to fetal distress, has been recommended for overseas treatment.

Latest patient information on Aminatta states that she is suffering from encephalomalacia, hypoxic encephalopathy, cerebral palsy, and malnutrition.
According to earlier Medical Board Report from Edward Francis Small Teaching Hospital signed by Dr Samba Ceesay, acting Director of Health Services, Aminatta was admitted in August 2008 at the paediatric ward of the then Royal Victoria Teaching Hospital (RVTH) for 14 days and was later discharged on medication.
The report stated that neurological examination finds no meningeal sign, slight generalized hypotonia, bilateral Babinski sign, pupils reactive and isochoric, no ophthalmoplegia, aphasia, trunk ataxia, and slight bilateral horizontal nistagmus.
On further investigation, the report stated that CT scan of the brain showed severe sign of brain atrophy. In both temporo-fronto parietal lobes, there is large hypodense area with encephalomacy aspect. There are small micro calcifications in both cerebral hemispheres, mild dilated lateral and third ventricular.
The report also stated that there are major modifications of the cerebral parenchyma with the presence of two poroencephalic caxities temporo-rolandic of big size, and is symmetric.
The report, in conclusion, states that "There are signs of encephalic hypoxi-isequemic as a sequellar."
It further stated that the board, after reviewing the case, recommends treatment with neuroprotectors like somazine 100mg daily. "Neurological rehabilitation, central nerves system stimulants, are not presently available in The Gambia. Therefore we recommend overseas treatment," the report stated.
The parents of Aminatta are therefore pleading with the government, private institutions, philanthropists and the general public to come to the aid of their daughter by helping them to let the little girl go for overseas treatment.
Aminatta's father can be reached on (+220) 9986466.
Read Other Articles In Article (Archive)