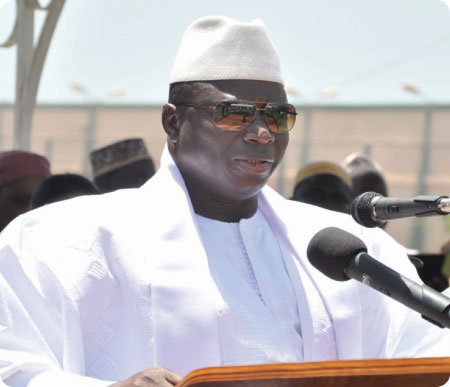 The Gambia National Trade Union Congress has released a statement expressing solidarity with President Yahya Jammeh and his government in condemnation of the terror attack of 30 December 2014 on the State House in Banjul.
"On behalf of the Executive Committee and the Workers of The Gambia, we are hereby expressing our profound pain at the incident of the Tuesday 30 December 2014 attack, and express solidarity with President Jammeh and his Government," the statement signed by the Congress's secretary general Ebrima Garba Cham said.
The Gambia is a small developing country that cherishes peace and tranquility hence all forms of violence should avoided, especially for assuming state power, the statement said.
"We should avoid violence because it does not only end with those who excite it. It affects others, particularly children and women who have nothing to do with it," it stated, adding that Gambians should learn lessons from other countries which have suffered the consequences of violence and the plight of being refugees.
The State House attack runs contrary to the constitution of the Republic of The Gambia, the AU and international protocols for changing a government, the GNTUC statement pointed out.
"We believe that the barrel of the gun and the bullet are not the substitute for the ballot box as the means of effecting change of government," the statement said.
"In accordance with the constitution of the Republic of The Gambia, every citizen has the right to form a political party and contest for elections (to elect and to be elected) and we should all repose our confidence in the ballot box as the means of effecting change of government and not by violence."
The trade union statement further declared: "We sincerely condemn the attack."
Read Other Articles In Article (Archive)