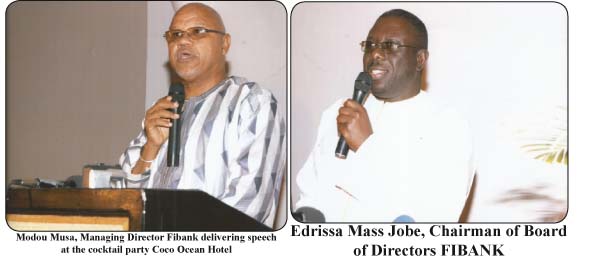 (Issue,Monday 30 March 2015)
First International Bank (FIBANK) last Friday 20thMarch 2015, organized a cocktail reception for its treasured customers at the COCO Ocean Hotel. The reception which brought together esteemed customers within Gambia and Nigeria was geared towards FIBANK, "saying thanks to its valuable customers for patronizing the Bank", the Master of Ceremony Sambujang Drammeh stated.
In his welcome remarks Mr. Edrissa Mass Jobe chairman of board of Directors, expressed total appreciation to their customers at the cocktail reception.
"As a Bank we remain grateful to the Gambia Government for giving us the license to operate in the Gambia. We are also grateful for the conducive socio-economic environment in the Gambia. Due that enabling environment, we are able to use the Gambia as a springboard to the rest of Africa", Mr Jobe remarked. He added, "In term of our profitability and our balance we are not a very big bank but we are proud that we are a bank that is customer focused a bank that realize that responsible lending goes with responsible borrowing.In the last 10 to 11 year we have been in the Gambia therefore we just want to say thank you to our customers, and thank you to our regulators. If Fibank can go to other countries in the sub region it is because of the confidence that the other countries have in our regulators which is the central Bank" . Mr. Jobe emphasize.
Mr. Jobe also commended the FIBANK management for their commitment to their customers and urged customers to continue their partnership with FIBANK,  a bank that provides them with their desired needs.
Speaking afterwards, the Managing Director of FIBank Gambia Limited, Modou Musa expressed his gratitude to their esteem customers for honoring his bank's invitation to attend the cocktail reception despite their busy schedules.
"It gives me great pleasure on behalf of the Board, management and staff of FIBank Gambia Limited to welcome all of you to this cocktail which marks another landmark in the tradition of the FIBank Gambia Limited's operation," MD Musa told his customers.
Established since 1999 MD Musa says FiBank has been able to stand the test of time due to their customer support adding that during this period competition had been tense but their customers' loyalty and support gave his bank the ability to meet the challenges.
"During this period mentioned above, FIBank Gambia streamlined its corporate culture from one that focuses on processes to one that partners with customers", noting that at FIBank, they are aware that to succeed in business, the response time and flexibility of a banker is paramount," MD Modou Musa pointed out.
"At FIBank we keep it simple, personalized and fair" Musa said adding that FIBank knows well that innovation is necessary to give support to their customers and save time and he promised that they will continue to do that.
He informed his esteem customers that FIBank is planning to launch its new product soon called FIBank Special Savings Account (FIBSSA), this product he stated, pays high interest rate and provides the comfort of using a cheque book for non-clearing payments. That is, as a customer to FIBank, you can issue a cheque against your savings account for third party withdrawal.
MD Musa used the opportunity to invite all their customers to try FIBank's other friendly products i.e. SAKANAL SAVINGS to build up for school fees and for unplanned events. He stressed that the cocktail reception they have organized, is purposely meant for their esteem customers to interact with other stakeholders.
"I call on our esteem customers to enjoy themselves, interact with the FIBank Board membersand management in order to share experiences and enable them to continue to serving them better," FIBank Managing Director concluded.
The reception was moderated by Mr. Sambujang Drammeh FIBANK Officer Brand Marketing and Communication.
Read Other Articles In Article (Archive)