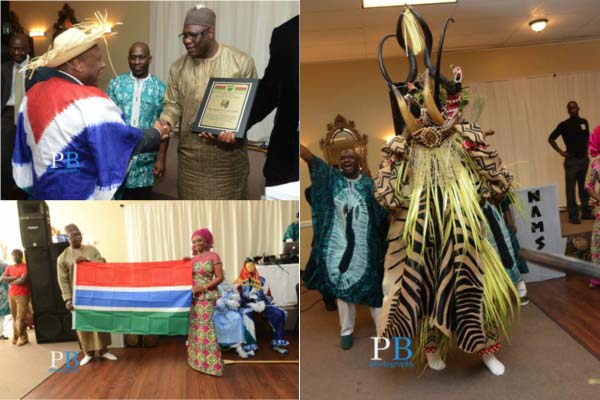 The West African Masquerade (Awo Hunting) Society (WAMS) celebrated its tenth anniversary of existence and also commemorated The Gambia's Golden Jubilee of Independence last Saturday in Atlanta, Georgia, United States of America.
Founded in November 2004, WAMS is the first hunting society outside the shores of The Gambia and Sierra Leone.
Addressing the gathering, deputy Gambian Ambassador Sheikh Omar Faye underscored the importance of culture in national development.
He reminded the gathering that The Gambia stands tall in the promotion of culture and tradition and this, he said, is manifested daily by President Yahya Jammeh's involvement and leadership in this sector.
The Gambia's Washington envoy also reminded Gambians that at 50, "it is time to take stock as a nation and revisit the last 50 years."
He also paid tribute to the forefathers that paved the way to independence and went on to talk about the bonds between Edward Francis Small, the father of The Gambia and his own grandfather, Sheikh Omar Faye, who was one of a few Gambians who represented the locals in the then legislative chambers.
Ambassador Faye went on record again to remind Gambians that it was healthy and quite democratic to disagree across political lines and ideologies, but maintained "we can never disagree on being Gambians, the well-being of The Gambia and its future for generations to come."
He said: "We must build the foundation for a tomorrow today, since Gambia will always be there after we are long gone."
He paid a special tribute to his former track coach Fred Llyod Evans, who received a lifetime achievement award for his contribution to Gambian sports and youth development.
He called him an extraordinary citizen, and saluted him on behalf of a proud people.
Ambassador Faye continued: "This celebration today, alongside our 50th independence anniversary is both historic and significant in the sense that on February 18, 1965, we promised the world that our diversity and culture will be the bedrock of our growth as a country. How so appropriate; 50 years down the line, we are here in Atlanta, to celebrate that very culture that continues to define who we are as a people and a country.
"For the past ten years, WAMS has been worthy cultural ambassadors of our country; and today, I wish to register my appreciation and that of the Embassy of The Republic for what all you do in the promotion of our culture and who we are. We could not have asked for more, and on behalf of the government and people of The Gambia I say congratulations and keep the flag flying.
"As a young athlete at my prime, my mentor and principal then, Fr Joseph Gough, gave me a motto: 'Second best is not an option', and really based on what I have seen on tape and what I have heard about WAMS since my arrival, I beg to use that same motto and say, hold unto it, nobody does it better."
The celebration was of epic proportion and WAMS AWO Society held their own with a display of five brand new magnificent Hunting Devils, all of which can hold their ground anywhere including "Gambia and Sierra Leone", according to Ashegba Zack Ogoo.
The WAMS ladies were extremely beautiful in their floral Ashobis and traditional African head ties.
Many who were around in 1965 went deep down memory lane when the voice of the Duke of Kent handing over the instruments of Independence to Sir Dawda Jawara in 1965 was played.
The Ashegba General of WAMS, Zack Ogoo, said it best when he said: "We are at our best when we hold each other up," citing the fact that without the support of the Gambian people in the states WAMS would not have been the household name it is today.
Regarding the Awo, Mr Ogoo went on to add that WAMS is a member in good standing with the hunting fraternities of both Sierra Leone and The Gambia for which he said the group is very proud, noting that in 2004 they had no idea it would be that big.
He also said it was important the country's birthday was celebrated alongside their tenth anniversary, noting that Gambia is their homeland and they are proud of their country.
He concluded by announcing that the anniversary replay will be held in Washington DC in October. Ashegba Ogoo said the creativity of WAMS will be on full display again.
Special congratulations to WAMS HUNTING SOCIETY!
Read Other Articles In Article (Archive)