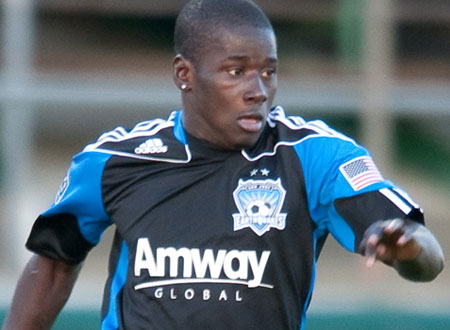 St Jose Earthquakes pacy midfielder Omar Jassey has sent a strong warning to the country's media, saying they should "stop associating me with Real De Banjul".
The 18-year-old Gambian international was angrily reacting to a story published about him in the Daily News that has linked his name with Real De Banjul outfit in its recent publication.
However this development does not go down well with the striker and has quickly tried to distance himself from having any connection with Real De Banjul, one of the top clubs in the country's top flight football league.
"I am not happy with the way you the Gambian media attach my name to Real de Banjul; every time I pick up a story on me in the local papers, I read 'the former Real de Banjul player' and I have nothing to do with them," he told the Daily News in an exclusive interview with the paper's sports editor Abdoulie Nget.
"I have never played for Real de Banjul and they have no hands in my move to San Jose Earth Quakes in the Major League Soccer (MLS).  I came to the MLS through my own contacts with the help of my agent but not through any team," says the fuming Jasseh, also known as Waterman.
"I can say I was a Samger player, though they did not sell me here; it is the team I played for in the past before eventually moving to the MLS."
He also said: "I always feel crazy when I see Waterman, the former Real de Banjul player, in local-based newspapers in The Gambia and I hope you the media will understand that now and stop attaching my name to Real because I was not their player."
Jasseh is not certain about his future at the San Jose Earth Quakes club, but has recently told the Daily News that he is not happy with life in the MLS and wants a way out of the MLS side with the English premier league believed to be his most preferred destination.
The midfielder spent three years in England with youth academies at Charlton Athletic FC, Chelsea FC and Crystal Palace of recent.
Since then, Jasseh has trained with Toronto FC (in 2009) and has now found his home in San Jose, California, USA.
Read Other Articles In Article (Archive)