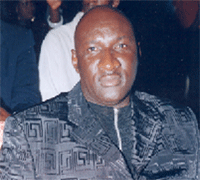 Mr Benedict Jammeh, former Inspector General of Police, on Friday 6th March 2009 testified before the Banjul Magistrates' Court in the ongoing criminal trial involving Musa Suso.
The accused Musa Suso former National Assembly Member for Kombo North is standing trial before Magistrate Kayode on four count charges of giving false information to a public officer.
Adducing evidence, PW3 Benedict Jammeh told the court that he was the former Inspector General of Police and that he knew the accused Musa Suso. He said he also knew Burama Dibba, former Crime Management Co-ordinator. " In the year 2007, when I was the IGP between the months of May and June, the accused Musa Suso while being an inmate in Mile II was brought to the police headquarters for investigation," he told the court. " During the course of the investigation, the accused Musa Suso made some allegations, which I recorded as the IGP," he added. He told the court that they were recorded in an audio cassette.
According to Benedict Jammeh, the allegations were that David Colley, Director of Prisons brought a carcass of a dead bull and fed prisoners with it as a result some prisoners died. He said it was also alleged by the accused Musa Suso that one Batch Faye presently serving at Mile II brought two satellite discs for the prison but that this was diverted to the personal use of David Colley.
According to Benedict Jammeh, the accused Musa Suso also mentioned one Sedia Jatta who painted prison trucks on the accused person's influence. He said the other allegation was that Ebou Khan a friend of the accused Musa Suso, gave fuel to the Director of prisons David Colley on the influence of he the accused (Musa Suso). He added that there are other allegations that he could not remember. He revealed that he recorded two cassettes and that the audio cassettes were kept by him and handed over to the then CMC who is now the present IGP.
The case was at length adjourned until 13th March 2009.
Read Other Articles In Article (Archive)