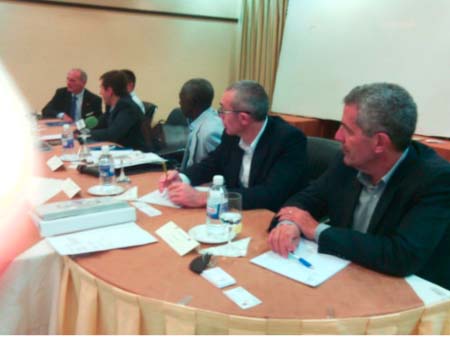 A one-day business forum between Gambian and European companies held on Monday at the Senegambia Beach Hotel discussed the way forward, and how to improve investment and business in the Gambia's private sector.
The forum was organised by the West Africa Constellation Programme (WACP) of Italy, in collaboration with the Embassy and Consulate General of The Gambia in Italy and the Federation of West Africa Chambers of Commerce and Industry (FEWACCI).
The forum created an opportunity for members of the Gambian private sector to discuss partnering with European companies.
Speaking in an interview with journalists at the forum, Bai Matarr Drammeh, president of FEWACCI, said the forum was about business people talking to each other.
"The forum was for members of the European companies to find out things they need to do in this country, and to see whether they could form partnerships with members of the Gambian private sector," he said.
Mr Drammeh said it was also for business operators to indicate their interest in what they want and what they don't want.
"We are encouraging them to create what we want in those areas," he said, adding that this was not the first time bringing them [the European investors] here, as this is a window for them to come to West Africa.
Mr Drammeh said the outcome of the meeting would be properly studied and professionally implemented to see a fruitful and positive result.
The investors, according to Mr Drammeh, are planning to invest in sectors such as agriculture, power generation such as solar systems and electrical items.
Roberto Brambilla, one of the European investors, said they are in Africa to work with the private business sector in developmental areas, to contribute to the growth of The Gambia's economy.
"We are here on a fact-finding mission to know what is needed to be done here; then we would evaluate it with them [Gambian business operators and the government] and make our decision," he said.
Read Other Articles In Article (Archive)