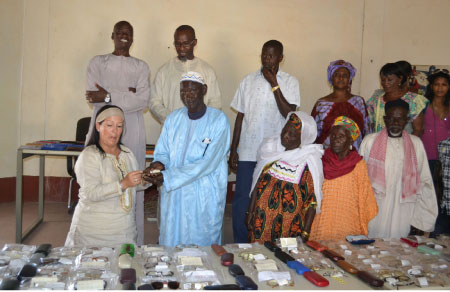 The community of Tanji has again benefitted from a donation of spectacles, by a German-based philanthropist couple: Mila Iglesias and husband Pascal Mendy, a Gambian.
Some nine hundred spectacles worth over one million dalasi were presented to the community at a ceremony held at Tanji Village Museum on Saturday 4th May 2013. The couple handed to the beneficiaries through voluntary eye specialists.
The optical materials included reading glasses, short and long distance sight-enhancing lens, bifocal and sun glasses, as well as eye drops.
In her handing over speech, Mrs Mila Iglesias, said she has been personate to make her own contribution to the development of the country, by donating the visual support materials to the communities around Tanji.
The Barmer Gek, the Health Insurance personnel, said sight is a matter of priority in human life, noting that through vision someone can obtain total passion of the properties of the environment.
"Many people cannot see their own environment, despite their right to see. It is my commitment together with my husband who is a son of this beloved country and we are proud to assist those who are less fortunate in their visual health to also realise the beauty of nature within their surroundings with their own sight."
For his part, Mr Pascal Mendy said the support is the second of its kind, which he added, is in fulfilment of a pledge they had taken to help Gambians and non-Gambians alike, through Tanji village while on a visit to The Gambia in 2011.
"While on our tour in The Gambia, we saw the need to give support to people with visual problems by at least providing them with medically-approved eye glasses and lens," he said.
Mr Abdoulie Bayo, the Proprietor of Tanji Village Museum explained that it has become a desire for Tanji village to set up a lasting association with a view to reach out to more people who need support to complement their vision with the support of the donors.
He said they have now formed "The Right to See Charitable Foundation' and thanked the eye specialists Mr. Baboucarr Yabo and Gibril Tamba for taking their time in providing the requisite optical and medical support for the materials to suit each beneficiary.
Ms Emily Cecilia Gomez, a grade 11 student of St. Joseph Senior Secondary School, is one among hundred individuals who were medically and optically tested and given medical eye glasses at no cost.Ms. Gomez hailed the donors for the help they are rendering to the needy.
"I was diagnosed with a serious eye problem and my first eye lens cost my parents eight thousand Gambian dalasi. My new eye lens which am lucky to get for free in this noble gesture, is costing five thousand eight hundred dalasi after a discount of two thousand two hundred dalasi at APEX OPTICS, becauseI am a regular client, so I am thanking Mila and her husband."
Similar gestures were extended to many people, both young and old, including the Tanji Village Alkalo, who used the opportunity to thank the donors, on behalf of the residents of the village.
According to him, many people who have visual problems are sometime desperate enough in search of treatment.
He said some of them cannot afford the cost of eye lens. This is why it is important to have the likes of Pascal and his wife, Mila to complement government's efforts, particularly in the health sector, he concluded.
Read Other Articles In Article (Archive)