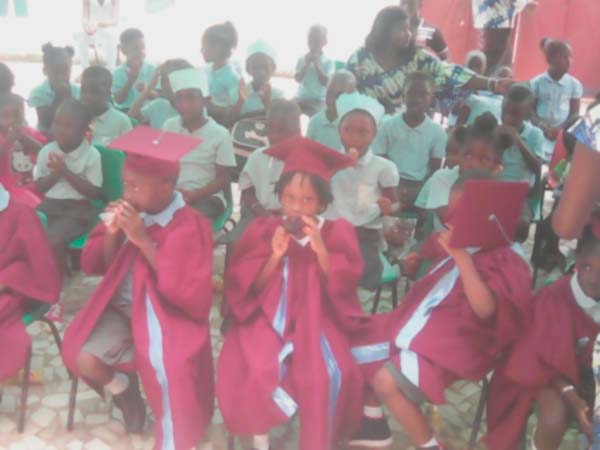 Rainbow Early Development Centre in Fajara held its first graduation ceremony at the school ground on Thursday.

Speaking at the ceremony,Mrs Aisha K. Njie, headteacher of the school, said she come up with the activity of organising a graduation as she as she has had considerable experience from her previous employment.
She said she organised the first graduation to prove herselfbecause Gambians believe that foreigners could do more in terms of teaching than the Gambians could.
According to her, she was helping the Ministry of Education with the minimum standard they expect in the country'seducation.
She said when she came into the school, salary was a problem because of embezzlement and lack of funding, adding that now these were things of the past so her school could go to higher heights.
She also explained that when she came to the school there were only two trained teachers and four teachers that were not trained, saying she took it up herself and enrolled them at the Gambia College.
"As Gambians,let us not say we cannot do it. The sky is the limit. We are determined to do it, especially the women," she said.
For his part, Malleh S. Saabali, education officer, said education is a human right that should be accorded to all human beings solely by reason of being human.
"Education is a powerful instrument for national progress and development," he pointed out, adding that education is also the best legacy a country could give to her citizens.
According to him, the development and advancement of any nation highly depends on the quality and standards of education of the citizenry.
"In this light we must have all hands on deck to ensure that the progress we aspire for is successfully attained," he added, noting that it requires concerted efforts and a collective responsibility to make the dreams come true".
He commended the head teacher and her staff for the hard work as they are contributing meaningfully to national development.
Read Other Articles In Article (Archive)