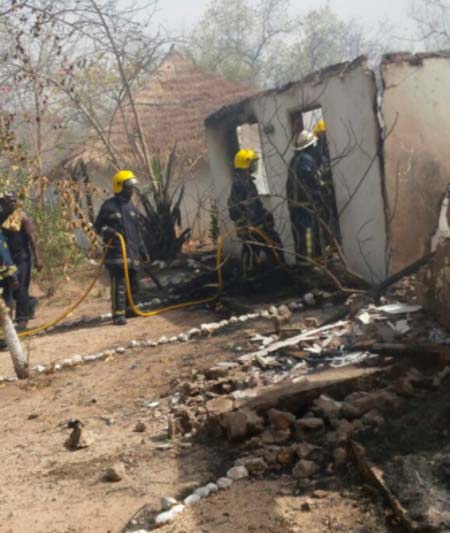 Three bungalow houses worth over 15, 000 Euros were last Sunday burnt to ashes by fire at Jerreh Camp Lodge and Resort located 5km from Sittanunku and 25km from Barra, in the North Bank Region.

Jerreh Camp Lodge and Resort offers boat trips, hunting, fishing trips, walking and trekking tours, art, music and culture sessions, cookery demonstration, Jet Ski hire, trip to main towns and markets, among others.
Speaking to reporters on Wednesday 8 Feb, Fakebba Senghore, proprietor of Jerreh Camp Lodge and Resort, explained that the fire accident started on Sunday morning between 9a.m and 10a.m when their guests went out for hunting.
He added that before their return, the houses had caught fire and 3 well-furnished bungalow houses were all burnt to ashes.
Senghore said everything that was in the houses was burnt to ashes, including property belonging to their guests.
Fortunately, no life was lost and no injury sustained, he went on.
Explaining the cause of the fire, he said some boys were clearing his neighbour's nearby garden and, unfortunately, after lighting the heaps of grasses, a strong wind blow the fire which caught the palm trees close to bungalow houses, and the fire quickly gutted the houses.
Senghore, a 48-year-old husband with 2 wives and 10 children, said the entirely family depends on tourism for their living.
He, therefore, appealed to the public, philanthropists, the Ministry of Tourism and Culture, National Disaster Management Agency and Gambia Tours to help him rebuild the 3 rooms, as he currently employs 12 staff and would have to cancel the bookings of his guests for this month due to the damages.
"This is where I derive my source of income for living and I will find life very difficult, owing to this unfortunate situation," he said, adding: "My 100 percent living entirely depends on tourism, and I have a lot of people to look after."
Mr Senghore also said he runs the camp all by himself, as he is the only Gambian in the field with such a camp. "I am the only Gambian with a sport hunting camp in The Gambia. There are 14 sports hunting camps in The Gambia, but all others belong to French nationals," according to him.
He commended the Gambia Fire and Rescue Service from Barra for their efforts, saying, they were very helpful even though they arrived at the scene after everything had been burnt to ashes, "due to the poor road condition, as well as the distance".
They started operating in 1997 as a restaurant and, in 2007, they developed to a lodge, he went on, saying they only received support from Gambia Tours who supply him with tourists, as well as finance.
He thanked Sittanunku villagers, saying they were the first to get to the scene, particularly the youths who volunteered to work when the need arose. He also commended his staff for their efforts.
According to him, the materials of his guests are also of great concern to him, as he would not know whether they were insured.
One of the guests even claimed that he travelled with about 4,000 Euro, which the fire had destroyed.
Read Other Articles In Article (Archive)