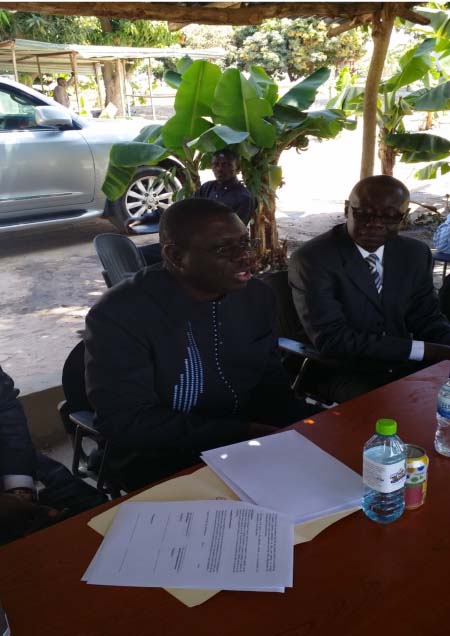 Edrissa Mass Jobe, chairman of Farato Hatchery Farm, has revealed that his farm has a target of employing about two hundred and fifty women of household within Farato village and its catchment areas.
He said his farm currently employs about one hundred certified women who have undergone proper screening before venturing into the chicken production at his farm in Farato.
Mr Jobe was speaking at the recent signing ceremony of a memorandum of understanding (MoU) between Reliance Financial Services and EM Holding at his Farato farm.
He added that the health conditions of the women are well certified and every six months they conduct screening to ascertain their health status, while stating the importance his farm attaches to helping Gambian women to earn a living through job creation.
Mr Jobe took the opportunity to call on the Gambian populace, particularly the youth, to venture into productive businesses like the EMPAS, which has the potential to employ a lot of people to develop them and be able to establish self-reliant business enterprises.
He said the aim is to fight steep unemployment in Farato village in the Kombo South and its catchment areas by employing half of the population of the women to boost their productivity through chicken production.
He said EM-Holding aspires to form an agricultural investment fund where Gambians and Gambian corporations would invest towards agriculture with a view to earning attractive returns.
Mr Jobe also used the occasion to recognize the role of the Gambia Competiveness Project in supporting the creation of the out-grower scheme and also supporting many experts to work with EMPAS including an integrated poultry manager from India, local out-grower experts, extension workers and trainers.
"We are working towards the creation of centers of excellence for training and best practice sharing in all regions of The Gambia," Mr Jobe said.
The major challenges to sustainable and profitable local poultry industry are the continuous dumping of products in Africa at prices well below production costs in Europe, as well as access to finance, he said.
"It is the policy of local banks not to lend to agriculture or Agro-industry. The cost of funding agriculture should have a preferential interest rate and certain bank portfolio should dedicate to the sector," he added.
He said the local poultry could only be successful with the direct intervention of the government; thus the limitation of importation of frozen chicken, and the application of import tariffs.
Read Other Articles In Article (Archive)