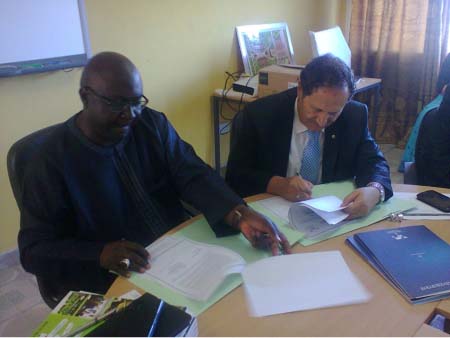 University of The Gambia (UTG) Tuesday signed a memorandum of understanding (MoU) with Al Fatih University in Istanbul Turkey, at a ceremony held at the UTG campus in Faraba Banta.
Speaking at the signing ceremony, Prof. Muhammed M.O. Kah said the genesis of the meeting was dual, as the first was the email triggered by the Vice Chancellor of the Fatih University expressing interest in the activities and growth of the UTG and another one was the effort of President Jammeh developing higher education in the country to uplift humanity.
He said the Fatih University wants to be part of that effort and the desire of President Jammeh in building a world-class university.
They are here to see how they could collaborate and join them in their effort at building human capacity with the infrastructure they have in Turkey to make their doors open to the UTG, he said.
Prof Kah further said they had numerous exchanges, and as a university and the only university in The Gambia, their goal and objective is to ensure access to the university and to impact quality learning for those coming to the university to have a deep and useful experience to be better people in their respective communities, society and humanity at large.
This was the reason why the UTG was founded by President Jammeh, he added.
"They open their doors to those that work hard in this community and outside of the Gambia to come and benefit from the university," said Prof M.O Kah.
The UTG Vice Chancellor said their mission is to respond to the immediate needs of society to make a comprehensive university that offers all disciplines at the undergraduate and postgraduate level with a very young university about 14 years old.
That tells the vision of their chancellor, who attaches great importance to the health infrastructure, he stated, adding that as the need of society comes to them their ability to respond depends on their collective competencies that exist in the university.
As a young university, Prof Kah continued, it needs more human resources, quality education and quality learning.
He said they thanked God that all their undergraduate degrees are of world class and their graduates come out of their doors and get admitted in top universities across the world.
"Their collaboration will involve young men and women who have undergone their undergraduate degrees in UTG and moved onto Fatih University and pursue various post-graduate degrees so that they can come back and strengthen their respective departments as academics to sustain the UTG," Prof Kah stated.
He assured them that students that would be going to their universities would be very strong students, and would be as good as any undergraduate students that come from other universities.
For his part, Prof Dr Serif Ali Teklan, Rector of Fatih University, said Fatih University is a university that provides education in Istanbul Turkey and they have various faculties including medical schools and approximately four hospitals.
He said they are collaborating with many universities in exchange programs and would also like to exchange programs with the UTG and share what they have.
They would like to have Gambian students in Turkey in their university, as well as to have one class for Turkish language and culture to be studied by the UTG Students, he said.
He said they would also like to send students from their university to UTG's four or five year's program, which they are ready to do.
Also speaking at the ceremony, Muhammed Niass, parliamentary member from Senegal, said The Gambia is their second home and he has worked with the Turkish people who are working for the benefit of humanity, particulary for the Muslim brothers and sisters.
Their visit was to work and share their experiences with the UTG as they work with universities all over the world, he said.
He said the visit was to forge cooperation with the UTG to favour humanity and to have a relationship that would last forever.
Read Other Articles In Article (Archive)