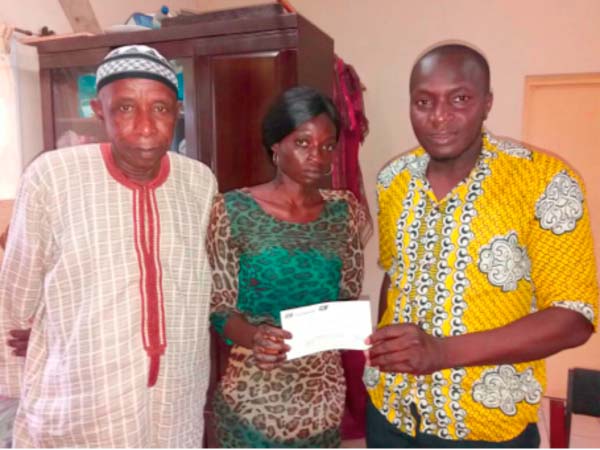 Enterprise Life Insurance on Friday settled another death claim of the late Mousukoi Badjie, a former staff of Bakoteh Fish Market and Ice Plant.
Enterprise Life paid the deceased's family D18,000; a promise made by Enterprise Life as life insurance cover for the deceased.
Speaking at a presentation held at the Bakoteh Fish Market and Ice Plant administrative conference room, Wahab Fatty, business and development manager of Enterprise Life Insurance, explained that the purpose of their visit to Bakoteh Fish Market and Ice Plant was to pay a death claim on the life of one of their late customers Mousukoi Badjie.
He said Mousukoi Badjie, a former staff of the Bakoteh Fish Market and Ice Plant signed on to the life insurance policy, which also covered her life need plans.
He said at the time of taking the policy, she authorised her sister, Kaddy Badjie, to be the trustee in the event of any unavoidable circumstance.
According to Mr Fatty, this was done and Enterprise Life Insurance was there to pay her through the trustee by presenting a cheque for eighteen thousand dalasi (D18,000).
Mr Fatty explained that Enterprise Life Insurance normally pay to the trustee through her institution for clarity purposes.
He agreed that the money that they are paying was not much but Enterprise Life Insurance deemed it fitting to come to her workplace and make payment.
He added that Enterprise Life places their customers at the top of their agenda, adding that Enterprise Life wants to ensure that they sensitise the general public about the benefits of life insurance.
According to Mr Fatty, Enterprise Life comprises two products; life time need policy and educational plans.
He explained that when an individual takes this policy, a minimum premium payment would be from D250 to D2,500 depending on the person's income.
He said D18,000 was to be shared among six beneficiaries of her family.
In receiving the cheque, the trustee on behalf of the beneficiaries assured Enterprise Life that the money would be shared accordingly and will be given to the beneficiaries.
Read Other Articles In Article (Archive)