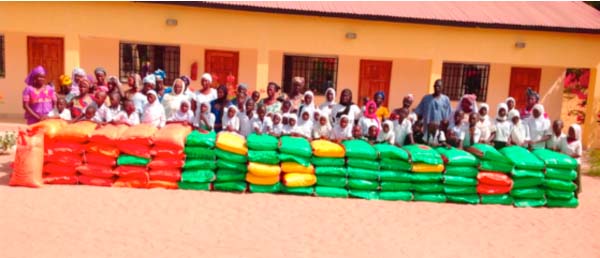 Help for Education and Local Projects in The Gambia (HELPING), an International NGO based in The North Bank Region, organised a youth camp for its sponsored students at HELPING LODGE in Fass Njagga Choi from 21 to 23 July 2017.

The three-day camp was meant to create an avenue for sponsored students to familiarise themselves with each other, expose to them developmental issues, information technology and leadership skills.
The camp was also meant to avail the students the opportunity to know how the charity's sponsorship program works.
Twenty-seven students were drawn from Fass, Medina Serigne Mass, Pakau Ngogu, Chamen and Touba Angalleh Schools.
Speaking during the official opening ceremony, the Helping Lodge Manager, Buba Sowe, welcomed the participants to the lodge and advised them to make good use of the opportunity given to them as sponsored children.
The Helping Charity National Coordinator, Sarjor Sarr, delivered the keynote address to the participants on behalf of the UK Committee.
Mr Sarr thanked the students for turning up to what he described as a very important milestone in the work of the charity.
He described the camp as a platform to help the sponsored students build their capacities on information technology, leadership skills and to make them aware of ongoing development issues.
The camp would also help participants effectively disseminate the knowledge acquired in their various schools, Sarr said, and he advised the students to be reading their books.
He noted that the sponsorship programme was based on both the need and performance, hence under performance would not be accepted.
Baboucarr Nyang, the deputy Board Chair of the Charity, called on the students to be more committed with their schooling and be studious as they have all the opportunity to do so.
''The Charity is doing everything to help you, therefore, you also need to help yourselves,'' he challenged them.
Other Speakers Included Karamo Manjang, the sponsorship coordinator of the charity who shared similar sentiments.
He also advised students to study hard and be committed to their education to achieve their goals.
Read Other Articles In Article (Archive)