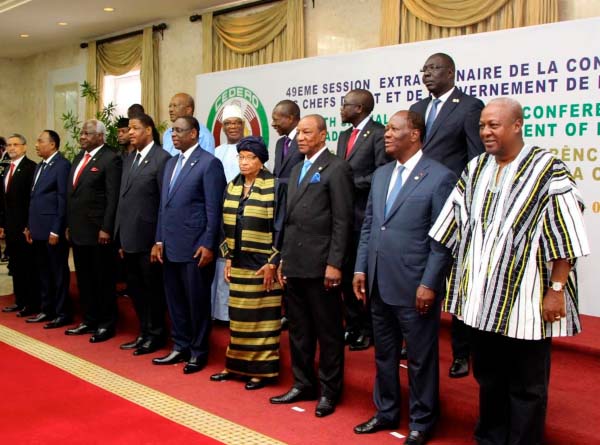 At the end of the summit in Abuja, Nigeria, the West African leaders have resolved to take all necessary actions to enforce the result of Gambia's 1st December 2016 elections.

"The Authority [Ecowas heads of state] shall take all necessary actions to enforce the results of 1st December 2016 election," the leaders said in a communiqué issued at the end of the 50th ordinary session of the heads of state of the Economic Community of West African States (ECOWAS) held on Saturday.
After accepting the result as the will of the Gambian people and calling president-elect to congratulate him, outgoing president Yahya Jammeh now faulted the process, fairness and result of the election, which he initially described "most transparent and rig-proof".
Jammeh, who is calling for a fresh election, has filed a petition at the Supreme Court challenging the election result.
But in the Ecowas communiqué, the West African leaders agreed to uphold the result of election, and called on Jammeh to respect it as the will of the Gambian people.
They also urged him to refrain from any action likely to compromise the transition and peaceful transfer of power to the president-elect.
The leaders have also affirmed to guarantee the safety and protection of the president-elect Barrow, and said he must be sworn in on 19 January 2017. The West African leaders are to attend the inauguration on the 19th of January.
They also called on the outgoing government and the Coalition parties to show restraint in order to preserve national unity.
The president of Nigeria, Muhammadu Buhari, has been appointed to serve as the mediator in The Gambia, and Ghana's John Dramani Mahama, as the co-chair.
The summit further requested the endorsement of the African Union and the United Nations of all decisions taken on the matter of The Gambia.
The leaders said the political situation in The Gambia is worrying due to outgoing president Jammeh's rejection of the result of the presidential election.
An Ecowas delegation comprising President Ellen Johnson-Sirleaf of Liberia and chairperson of Ecowas, President Muhammadu Buhari of Nigeria, President Ernest Koroma of Sierra Leone, and President John Dramani Mahama of Ghana was in Banjul on 13 December 2016 to review the political situation with all stakeholders.
Read Other Articles In Article (Archive)