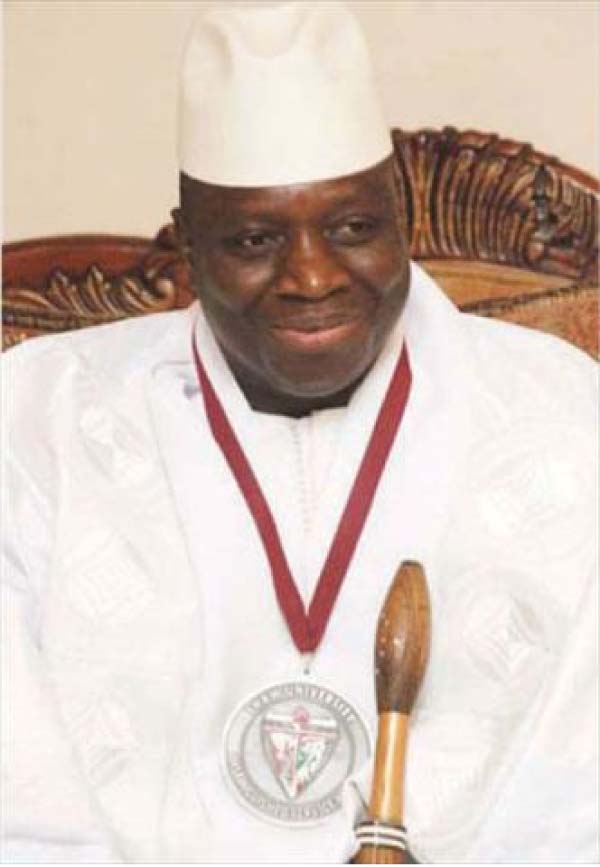 "We believe it needs further scrutiny," announced President Yahya Jammeh, referring to the issue of signing an Economic Partnership Agreement (EPA) negotiated by ECOWAS with the European Union.
President Jammeh retuned to Banjul Friday night from the 44th ECOWAS summit held in Yamoussoukro, Cote d'Ivoire, a day before the summit officially ended on Saturday.
Jammeh said the two-day summit "went on smoothly, though there are divergences of view, "especially with regards the Economic Partnership Agreement (EPA). We believe it needs further scrutiny."
Speaking in an airport interview with waiting reporters, Jammeh asked why there are the so-called RECs – Regional Economic Communities – in Africa, when it comes to negotiating the EPAs with the EU.
He said Africa should have just dealt with them as a bloc, that is, as AU versus EU, and described this state of affairs as a continuation of the "divide and rule policies, which are unacceptable."
Even within ECOWAS, "they (the EU) have given some countries a deadline to sign with them in October, and that deadline they must meet," according to Jammeh.
In his view, the issue of signing the EPA should have been put to the AU – not the various RECs in Africa.
"So we have to look at it carefully, because the idea of us continuing to export our materials as raw materials in a non-starter for The Gambia."
He continued: "Any economic relationship with any bloc, be it East or West, must be premised on "Africans processing their raw materials into finished products, and then selling, because in that way, we can fix our prices…"
"This is my objection to the EPA…If we expect those who colonized us to develop our continent, there is something wrong with us…If we have a partnership, it has to be a partnership based on mutual respect," President Jammeh added.
Meanwhile, Reuters has reported that West African leaders failed to agree to open their economies to free trade with the European Union at the Yamoussoukro summit, after regional heavyweight Nigeria voiced concerns, endangering a decade of talks over a deal.
Negotiations over the Economic Partnership Agreement (EPA) stalled two years ago after countries of the Economic Community of West African States (ECOWAS) resisted lifting tariff barriers over fears they could crush nascent industries unable to cope with European imports.
However, an agreement in October to gradually implement a long-delayed West African customs union put a possible deal back on track as ECOWAS agreed to bring their rules into line with countries like Ghana and Ivory Coast that have EU free trade deals.
While the summit endorsed an agreement in principle, some member states — in particular Nigeria — voiced concerns over technical issues, according to the final communique.The bloc set a two-month deadline to eliminate lingering areas of disagreement.
"We need to negotiate an EPA that is beneficial to our sub-region and will contribute to the prosperity of our people," said Ghana's President John Mahama, who assumed the bloc's rotating chairmanship at the two-day summit.
"We can only do that united as a sub-region," he said.
Under the EPA, the European Union would immediately offer the 15-member ECOWAS and non-member state Mauritania full access to its markets. In return, ECOWAS would gradually open up 75 percent of its markets — with their 300 million consumers — to Europe over a 20-year period.
Technical negotiations wrapped up last month with the European Union offering a €6.5bn package over the next five years to help ECOWAS shoulder the costs of integrating into the global economy. ECOWAS includes members Cape Verde, The Gambia, Ghana, Liberia, Mali, Nigeria, Sierra Leone, Benin, Burkina Faso, Ivory Coast, Guinea, Guinea-Bissau, Senegal, Niger and Togo.
Regional leaders were to finalise the deal at the meeting in the Ivorian capital Yamoussoukro days before a two-day summit between African nations and the European Union in Brussels, which will take place on 2 and 3 April, under the theme: "Investing in People, Prosperity and Peace".
However, according to one official who was party to the talks, Nigeria voiced lingering concern over the potential negative impact of the deal on its industrial sector if certain products were allowed tariff-free entry into its market.
Failure to finalise a deal would have only a limited impact on most ECOWAS countries, which already benefit from full access to the EU market as low-income countries.
But Ivory Coast and Ghana, which send the bulk of their exports — including most of the world's cocoa — to Europe risk being hit hard as their interim bilateral deals expire.
Read Other Articles In Article (Archive)