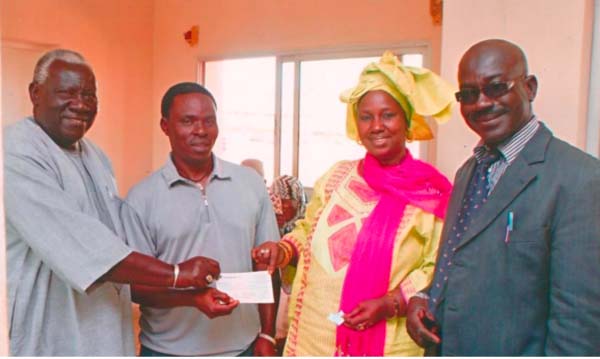 A 39-year-old Nigerian man called Alichukwuma NNorom, a shoe doctor, residing at Dobson Street in Banjul was the winner of The Gambia National Lottery PMU jackpot last week.
He received a cheque for two hundred and seventeen thousand, eight hundred and seventy-five dalasi at a presentation ceremony held at the GNL headquarters in Banjul.
The acting-managing director of the Gambia National Lottery, Mam Dangen Sarr Tambedou, expressed appreciation with their customers for patronizing GNL products.
She said the GNL had totally changed in terms of paying their staff salary on time, winners on time, and paying commission on time, which "is all geared towards ensuring transparency".
She called for public confidence on GNL, saying everything had changed and the office is smoothly operational, adding that the GNL's first priority is customers.
"Now if you win you will be paid immediately as everything is in place," she said, using the opportunity to thank the winner for having patronized the GNL over the years.
She urged the Gambian people to continue patronizing the GNL, saying they should have confidence in GNL as at the moment all structures have been put in place.
GNL's interim chairman Sering Ndow expressed similar sentiments as his acting-MD's and thanked their valuable customers for patronizing the GNL products. 
"Playing the raffle is a big opportunities for everybody," he said, calling on everyone to join their family and the ongoing GNL PMU raffle draw, as "it is very transparent and Gambians and none-Gambians should patronize GNL".
He advised the winner to utilize the money wisely as it would go a long way in helping him building his future.
Alichukwuma NNorom, the winner, said he was full of joy and appreciation and surprise after he was informed he was the lucky winner and was called to go and receive his cheque.
He said he had been playing the GNL raffle over the years but this was his first mega win, adding that "the GNL is here to help both Gambians and non-Gambians".
He urged all Gambians to patronize the Gambia National Lottery, saying "the more you play the better chances of winning you have".
Read Other Articles In Article (Archive)