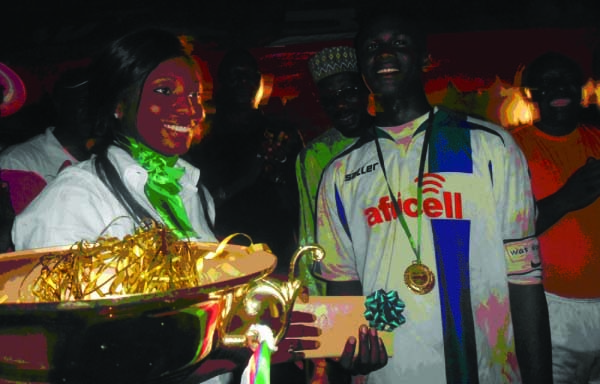 Sensational goals from D&H's duo Isha Dem and goal poacher Mustapha Sylva were all the Kanifing outfit needed to celebrate an emphatic 2-nil win over G&C in magnificent fashion, as the Fatim Badjie-initiated One Love Football Tournament came to a spectacular conclusion in Kanifing on Sunday.
The two-week tournament designed to bring the youths of the area together was accompanied by some wonderful demonstrations of individual skills from both sides but it was D&H that proved the better team of an action-packed encounter played under the watchful eyes of Sheriff Gomez, Minister of Youth and Sports and a host of other high-profiled sports personalities that grace the weekend's final.
D&H made their winning ambition known to their opponents in the 61st minute of the contest following a stalemate result in the first period when Mustapha Sylva nodded home from a close range strike amidst huge celebrations from the club's faithful.
Sylva was eventually named the top-goal scorer of the tournament after bagging four goals to his name including a spectacular strike in his side's humiliating 3-1 win at the expense of Last Rush few days earlier.
Wallidan star player Isha Dem, who played a major role in helping D&H win the tournament, netted the game's second goal thanks to a fine finish to put the game beyond the reach of G&C.
G&C under the guidance of Seaview and the Gambia national U-23 midfielder Mamut Saine could have levelled the score following strings of fantastic goal-scoring attempts but all their brilliant attacking options and dominance in the latter part of the game were not good enough to earn them a happy evening.
They (G&C) eventually left the pitch in disappointment after missing out in the race to claim the top accolade but were awarded a cash prize of D5,000 and 22 silver medals as a consolation prize while the champions went home with D10,000 and 22 medals.
However there were prizes for the Chain leaders (D5,000) as well as the most disciplined team of the tournament award, which was awarded to A&E.
Read Other Articles In Article (Archive)