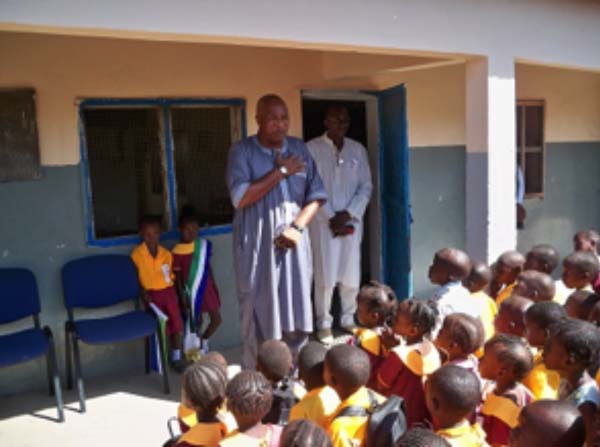 His Excellency the Ambassador of Sierra Leone to The Gambia, Soulayman Daramy, on Friday visited three schools set up by a Sierra Leonean that has lived in The Gambia for 28 years.
The well-known established and separately set up learning institution YAKANU chain of schools, named after a caring woman of children in a community in Sierra Leone, comprises nursery, lower basic, upper basic and high schools, called DA VINCI TECHNICAL SENIOR SECONDARY SCHOOL with over one thousand pupils.
The school is located at Nemasu Layout in Bundung through the vision of its Sierra Leonean proprietor Lamin Kandeh.
Speaking at the nursery school to the children after being welcomed with songs and presentation of a bouquet of flower, the seasoned Ambassador expressed how happy he was to have been invited to see for himself the vision and product of a citizen of Sierra Leone imparting knowledge into pupils of a sister country. His Excellency referred to him as a true Ambassador of his country.
Trying to be at their levels, Ambassador Daramy told them to study hard and do their homework or assignments, be clean and always punctual at school, saying as children they should play but should also study very hard and above all be obedient and honour their parents and teachers.
"Teaching minors and watching over them is not an easy task but as I look at them they are well dressed and neat. Therefore I want to commend both the teachers and the proprietor for their contribution to the economic development of The Gambia through education," he said.
At the YAKANU Lower Basic School and High School, Ambassador Daramy was welcomed and addressed by the principals of both schools. They gave him a brief background of their schools, courses and performances.
Addressing the pupils and teachers, Ambassador Daramy advised them to be studious and hardworking and to put the interest of their schooling and work above all else.
He said it's a big pride for all citizens of Sierra Leone to see the successful accomplishment of such a venture. "This man is no doubt an ambassador of his country and a bright example to all," he said.
He cautioned the pupils against behaviours contrary to the aims and objectives of their school; rather they should put their shoulders to the wheels and make perfection real in their quest for knowledge.
He also advised them to practise being responsible and become role models by setting good examples in and out of school.
"Go for gold, by studying hard for your public exams and get very good results, as that would put your school on the educational map. It would also make your principals and teachers proud," he advised.
The Ambassador promised the Embassy's support and subsequent visits to the school.
He was decorated by a High School pupil with an emblem of his country's national flag.
The Sierra Leonean-born proprietor of the school, Lamin Kandeh, said the school had produced many graduates that had impacted on its existence, responsibility and credibility to make it better compared to other schools.
"The nursery has a roll of 300, Lower Basic Primary 200 and High School 500 plus, giving a total of over a thousand pupils," he said.
He expressed satisfaction as a Sierra Leonean in The Gambia contributing to the economic growth of his country of resident.
He took the opportunity to pray for President Ernest Bai Koroma, the Government and People of his native country as well as for the deadly Ebola virus to be eradicated from the region.
Smiling, he had this to say: "I am married to a Gambian woman with children."
Mr Kandeh also promised his cooperation and that of his school to the Embassy.
Read Other Articles In Article (Archive)