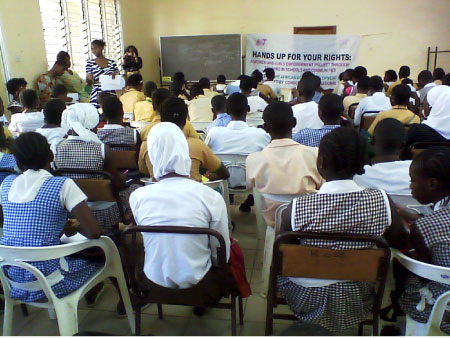 As part of events marking the observance of International Women's Day, Conscience International (CI) at the weekend held a one day seminar on gender-based violence for students, drawn from five Upper Basic Schools within the Kanifing Municipality.
The seminar, which was held at the St. Paul de Vincent Hall, Westfield, was centred on gender rights and responsibilities of women, in relation to reproductive rights and protection.
Speaking at the official opening of the seminar, Shaka Ceesay, the Director of the organisation, said the event coincided with the commemoration of the International Women's Day. He said CI is operating in The Gambia, Sierra Leone and Liberia, aimed at enlightening people on their rights.
Noting that human rights are God-given things that cannot be negotiable and must be respected by all and sundry, he said, it is like a scale and does not empower someone to disrespect the rights of others.
Mr. Ceesay went further to define gender-based violence as the infliction of pain between men and women, while stating that sexual violence is perpetuated by both men and women, particularly in communities.
He said the ultimate objective of the training is to provide students with the right tools to protect themselves and to avoid infringing into someone's rights.
Ms Phyllis Machuka, the lead facilitator did a presentation on the classification of rights, including legal and moral rights.
For her part, Fatoumata Darboe, trainer of Conscience International centred her presentations on relationship and mediation techniques, geared towards controlling gender-based violence.
She used the opportunity to advise students to avoid early sex and adhere to morals and best practices; adopt positive attitudes and avoid humiliating dress codes and compelling behaviours which may lead them to sexual exploitation and violence by their male counterparts.
Read Other Articles In Article (Archive)