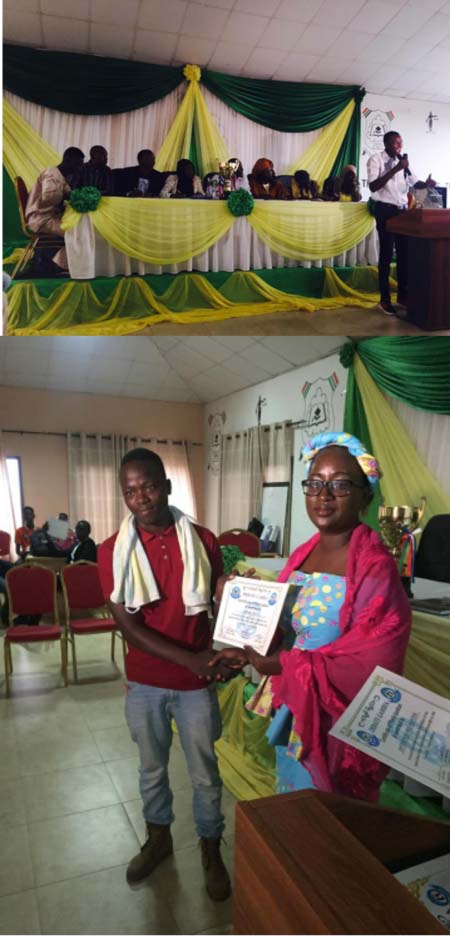 In yet another display of academic excellence and oratorical brilliance, Debate Gambia (DeGa) held its Masters Round Championship on Sunday June 10, at the Faculty of Law Complex of the University of The Gambia.

The event attracted students and dignitaries as well as sponsors.
This year's edition was held with the theme: "Significance of debate and public speaking in making the New Gambia a reality."
The debate motion was: NAWEC should be privatised.
Debate Gambia was an organisation established in 2014 with the aim of promoting debate and public speaking.
The president of the organisation, Omar Ceesay, said since its inception, they have been involved in organising debates and debate related activities.
He said the Masters Round Championship started last year with the aim of engaging the tertiary institutions in The Gambia to talk about issues of national concerns and also engage them in constructive dialogue through critical thinking.
President Ceesay lamented challenges of funding and called on the partners to support debate as it is very crucial for national development.
Delivery the Keynote speech, Jainaba Teeda Sarr, emphasized the need for debate in a bid to build New Gambia.
She stated: "Let me first take this opportunity to congratulate the members of Debate Gambia for creating this important platform and for their tenacity in seeing it through year after year despite the many challenges. I stand before you to make a case for debate and public speaking in realising the New Gambia."
In doing, she added, she would like to begin with some historical backing by citing strong evidence of debates as an integral part of traditional African political systems.
She further asserted that now more than ever before, the country need a leveled, non-discriminatory public platform for self-expression and dialogue to shape the nation's future.
The team that speaks against the motion "Cherno Gaye and Mariama Danso (UTG)" were crowned champions.
At the end of the contest, the winners were awarded trophies and other prizes.
Best Debater Modou Lamin Jarjusey, 2nd best speaker Mariama Danso, 3rd best speaker Cherno Gaye, most promising team (Jariga E. Gaye and Santigie Muhamed Kandeh), most promising Debater Omar Camara, most disciplined debater Ebrima Jorbateh, best adjudicator Fanta Fofana, most promising adjudicator Haddy Cham, and most outstanding institutions are UTG and Gambia College.
The main sponsors of the competition, former Presidential Affairs Minister and Youth Empowerment Expert, Momodou Sabally, sponsored a special prize (trophy) in honour of his late mother.
The Aja Kaddy Jammeh Prize for best female debater, which was awarded to Mariama Danso.
Other speakers at the event were Mustapha Kah, Founder of Debate Gambia, and former Higher Education Minister Professor Aboubacarr Senghore.
Read Other Articles In Article (Archive)