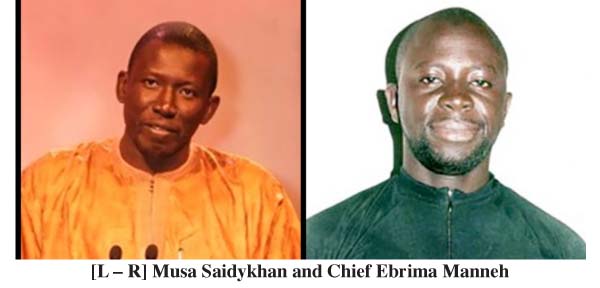 The government of President Adama Barrow has been asked to comply with a court order and pay US$300,000 compensation to two journalists for violation of their rights by the regime of Yahya Jammeh.

The solicitors of Media Foundation for West Africa (MFWA) have sent a letter to the government asking it to pay $100,000 and $200,000 to Chief Ebrima Manneh and Musa Saidykhan, respectively, as ordered by the Ecowas Court of Justice.
The duo were separately arrested and detained by the National Intelligence Agency, now renamed State Intelligence Service, in 2006.
Chief Manneh, who used to work for the Daily Observer newspaper, subsequently disappeared with little trace; he is now feared death. Mr Saidykhan, formerly editor-in-chief of the defunct Independent newspaper, was eventually released after he had been subjected to brutal torture; he now lives in exile in America.
In the years that followed, MFWA brought lawsuits against The Gambia at the Ecowas Court of Justice on behalf of both Saidykhan and Manneh.
In December 2008, the Court found that The Gambia had violated Chief Manneh's human rights and ordered it to release him and pay his family compensation of US$100,000.
Similarly, in December 2010, the sub-regional court also found that Saidykhan's rights had been violated and ordered the government to compensate him to the tune of US$200,000.
However, The Gambia government, under the leadership of former President Jammeh, refused to comply with the judgments hence no reparations has been paid to the victims despite several calls for the court order to be heeded.
In a letter dated 22 May 2017 sent to the Gambia minister of Justice through the Gambian High Commission in Nigeria, MFWA urged the minister to ensure immediate compliance with both judgments.
"In the light of the foregoing and in line with the commitment of the Adama Barrow administration to restore the human rights of the people of The Gambia under the rule of law, we hereby urge you to use your good offices to ensure immediate compliance with both judgments," the MFWA lead lawyer, Femi Falana, said in the letter.
"Apart from asking for payment of the judgment sum of $300,000, we request the government to institute an inquiry into the disappearance of Chief Ebrimah Manneh under the Tribunal of Enquiry Act."
Read Other Articles In Article (Archive)