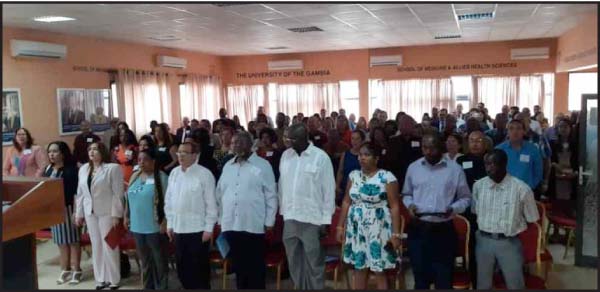 Banjul - With more than 170 attendees, among the members of the Cuban Medical Brigade (BMC) in the Gambia and their colleagues in this West African nation, the XVII Scientific Conference was held here, which was described as very successful by health professionals participants.

In the event, organized by the BMC and developed this Saturday, December 7, about 60 papers were presented, including pedagogical research, and clinical and surgical specialties, and 13 were awarded, in addition to 7 mentions.
He also highlighted a beautiful presentation on the work of Cuban women in health in the fulfillment of internationalist missions, prepared by Professor Maria Inés Álvarez.
Entitled "Isabel Despaigne, an internationalist experience and a story to tell", the aforementioned text impacted, for its human values, all those present at the opening of the scientific event staged in the theater of the Central Hospital of Banjul.
The inauguration of the meeting was chaired by Ousman Nyan, Dean of the Faculty of Medicine of the Gambia, Mustapha Bittaye, Director of Medical Services of the Ministry of Health, by the Ambassadors of Guinea Bissau, Bailo Cassama, and Cuba, Rubén G. Abelenda , as well as by the head of the BMC, Anaris Marta Odio, and the head of the BMC, Rebeca Lahera Cabrales.
Also invited were the President of the Gambia-Cuba Friendship Association, Modou Grant, and young Gambians graduated in the greater of the Antilles, among others.
In his inaugural speech, the Cuban Ambassador highlighted that the Scientific Day coincided with the historic date for Cubans on December 7, and highlighted the intimate relations between his country and Africa.
He affirmed that this encounter of science was a new demonstration of the bonds of brotherhood and solidarity between our peoples over the centuries, and a dignified tribute to those who gave their blood for Cuba and for this continent.
Read Other Articles In Article (Archive)