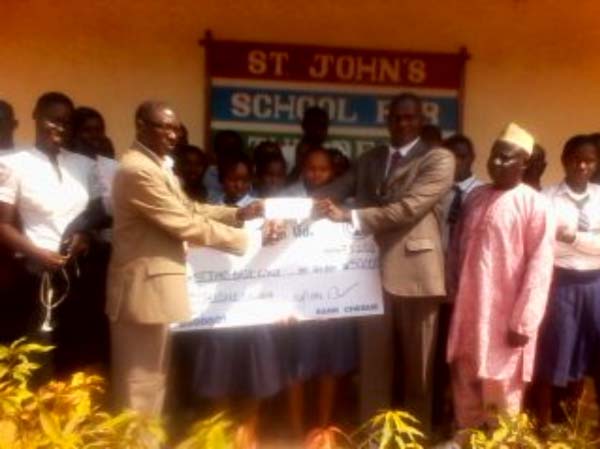 Trust Bank Gambia Limited Wednesday donated fuel coupons worth fifty thousand dalasi to St. John's School for the Deaf in support of their fuelling needs for the transporting of students from their various destinations to school and back home.
Daniel Mendy, Principal of St John's School for the Deaf, speaking at the presentation held at the school grounds, said they made a formal request for assistance from Trust Bank Limited.
He stated that their weekly fuel needs cost over D13,000, adding that the gesture would serve them well for a month.
Mr Mendy described Trust Bank's gesture as a dream come true for them, noting that at some point they were virtually stranded and had to put a halt to the movement of their vehicles.
Their constraints are many, including electricity, carpentry, metalwork and tailoring materials as these areas go with materials and cost, he said.
He also cited the need for extra classroom blocks to cater for the senior secondary, as at the moment they are housed at the hall.
Alex Alasan Gomez, Marketing Officer of Trust Bank Limited, said as regards corporate social responsibility, the education sector has been receiving the bank's fruitful intervention over the years, which needs not be overemphasised.
He noted that the gesture was part of their complementary support to Government's efforts at improving the quality of the deaf children in the country.
Speech and prize giving is an area they contribute highly in supporting schools in terms of developing excellence in education by sponsoring three main subjects, he added.
To develop education, he added, they go into awarding students who excel very well in Grade 9 exams, he stated.
They had given this award and support for 12 to 13 years now and each year the number of awards keeps increasing, he said, adding that they have also built a science lab for senior secondary schools in the Greater Banjul Area.
He said they had also donated computers to schools, adding that education in The Gambia is something on which their management is focusing attention.
They do not discriminate schools in their support programme, he said, pointing out that whatever they do for any child in The Gambia could be of immense benefit to that child.
He also said they hope the gesture would go a long way in addressing the fuel need of the school, noting that by next year they would look at how best to continue supporting the welfare of students in the school.
Amadou Touray, Honorary Life President of St John's School for the Deaf, said Trust Bank Limited is well-known for its noble gesture, adding that the name Trust Bank is enough to tell people the bank is worthy to be trusted.
He also highlighted the numerous gestures of the bank to various sectors of the society over the years.
Mr Touray called on the people to bank with Trust Bank Limited as it goes to helping the bank help The Gambia.
Read Other Articles In Article (Archive)