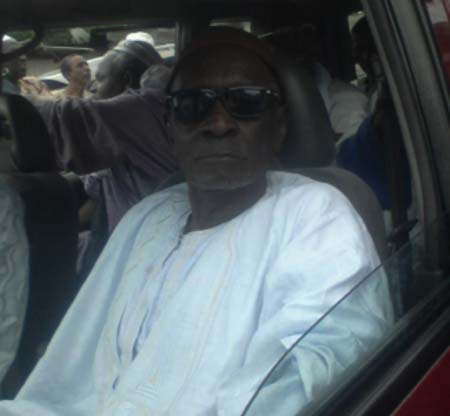 The Brikama magistrates' court has jurisdiction to hear the case of Darsilameh Sangajor Caliph General Sheikh Muhideen Hydara and the village alkalo, Buyeh Touray, who were charged with conspiracy and disobedience to lawful order.
This was the ruling delivered Thursday by principal magistrate Omar Cham.
The trial magistrate recalled that senior defence counsel AB Gaye on 18 August made an application for the court to stay the proceedings, and to refer the case to the Supreme Court of The Gambia.
The application was for the apex court's interpretation and determination of questions under the country's constitution.
The defence counsel submitted that the charge of disobedience of a lawful order of the President of The Gambia is inconsistent with and contrary to the 1997 constitution; therefore null and void and of no effect.
The police prosecutor in the case, chief inspector Touray, argued that the court has the power to hear the case, because the offences charged are offences which are always before the court.
Magistrate Cham said, in his view, a case could only be transferred to the Supreme Court when the words are ambiguous and not clear to both parties. He added that the charges are clear to both parties.
Consequently, the lower court declined to refer the case to the Supreme Court, declaring that it has jurisdiction to hear the matter, and that both parties can appeal if they are not satisfied.
The case continues on 18 September 2014.
Meanwhile, defense counsel LK Mboge had earlier applied for an adjournment on the grounds that his senior colleague, AB Gaye, wants to address the court further on the application before the court.
Lawyer Mboge said the accused persons should be given more time and adequate facilities for the preparation of their defence, in the interest of justice.
Counsel added that a fair trial is the fundamental right of the accused persons, and it is also their constitutional right to be defended by counsel of their choice.
Chief Inspector Touray responded that he was not opposing the application made by counsel for an adjournment, but added that it was proper for the court to deliver the ruling on whether or not the case would be referred to the Supreme Court. 
Read Other Articles In Article (Archive)