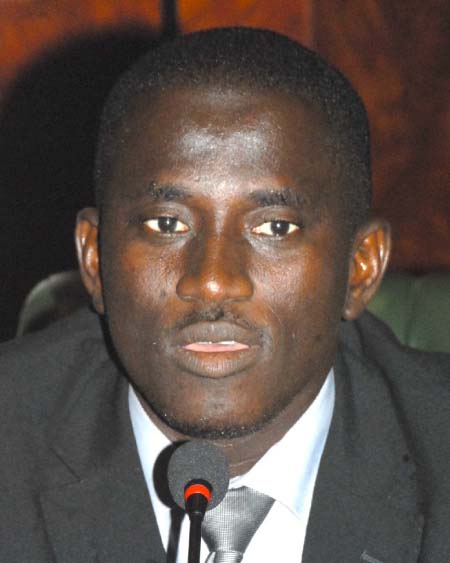 The machine operator at the Central Bank of The Gambia, Sheikh Omar Bah, yesterday testified as the first prosecution witness in the trial of former Secretary General Momodou Sabally, before Justice Amadi of the Special Criminal Court in Banjul.
In his testimony, Sheikh Omar Bah said he is a machine operator at the Central Bank and knew the accused person, as they had been together at the bank.
He also knows one Assan Ndoye, through his in-law, Sulayman Jatta, who introduced him to Assan Ndoye.
Assan Ndoye brought two cars from Senegal to sell them to the President, the witness said, adding that he then called the accused person and told him that one of his friends brought cars to sell to the President.
The accused told him that he would arrange for them to take the cars to his compound in Kerr Sereign, so that he could look at them.
They went with the cars to Sabally's house for him to see them. Bah was with Sulayman Jatta and Assan Ndoye, he told the court.
There, Sabally inspected the cars and told them that he would arrange to get the cars to State House, the witness added.
The following day, they took the cars to State House, but the President was not there. On the second day, they met the President at July 22nd Square where he shook hands with Assan Ndoye, who asked him if he had seen the cars.
Bah further told the court that when they went with the cars to State House, they were asked by Sabally to pack the cars and give the keys to a soldier, and were told to go.
After sometime, Sabally called Bah and speaking angrily said he thought the cars were for donation. He said Sabally is his boss and he did not talk back at him when he talks to him.
The accused person, Bah went on, then said he would make sure the cars were returned to Assan Ndoye.
The witness told the court that it was not to his knowledge whether the cars were returned.
At that juncture, senior defence counsel A.B. Gaye said he wanted the court to watch the demeanour of the witness.
However, the DPP said he did not observe anything wrong with Bah's demeanour.
Under cross-examination, the witness said he wrote his own statement once, and did not remember the date.
He was a messenger before being promoted to machine operator, and did not know who Assan Ndoye was before they were introduced.
The trial continues today.
Read Other Articles In Article (Archive)