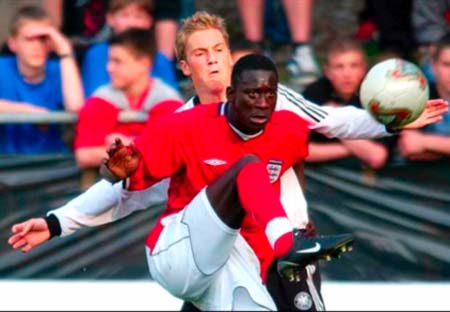 Former Gambian International Cherno Samba has announced his retirement from football to attain his coaching badges.
In a statement made available to Pointsports through his PR Modou Lamin Beyai Samba, Cherno said it is with sadness that he officially announced his retirement as a football player in order to focus on moving onto the next chapter of his career - which is to attain his coaching badges.
He thanked his family, friends, as well as his fans, for being with him on "this great journey", saying their love and support has been his rock as he could not have done better without their support.
Many other people played a huge part in his career since he started as a child, and Samba, who represented England at youth level, particularly thanked Richard Bates Harry and Ian Seddon for their "tremendous support" during the course of his career. "Thank you for the coaching and mentoring!" he added.
Samba, who ever since as a kid said he wanted to become a professional football player, played in the England Youth setups up to U21 level and represented the Scorpions of The Gambia. Achieving this has been a great joy for him and his family, he added.
"Both nations played a part in helping that dream come true for me and for that I can just say THANK YOU!" he said.
The past few years have been difficult for him, he admitted, saying he couldn't get back on the pitch due to persistent ankle injuries which is the main reason he decided to finally call it quit.
It has been an honour for him to grace the field with great players, playing with and against them, he further said.
Samba also said he is thankful to his managers, clubs, and countries, as well as his teammates, he has passed through in his career.
It has been an honour working with and sharing the field and playing the game they all love, he added.
"My sincere thanks to Millwall and everyone associated with the Football Club, for they gave me the chance to begin my career with them," he went on.
The media has also contributed a lot in his career as without the media; he might not have been where he is today, he noted, while sincerely thanking them: "I consider them partners in football development.
Furthermore, said: "My greatest appreciation to the fans for being with me on this journey from day one. I cannot thank you enough."
He also said it is with sadness and joy that he has brought to an end his "fantastic" fifteen-year career in football.
"I am grateful for all the opportunities the sport has brought me," he said.
Read Other Articles In Article (Archive)