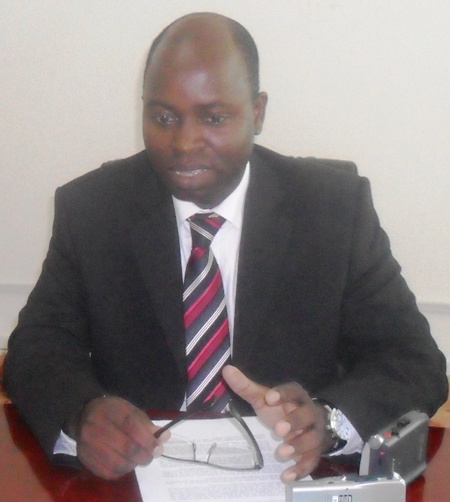 Capital Express Assurance (Gambia) Ltd a specialist life assurance company operating in the Gambia on Monday briefed journalists about their operations since coming into the country in January 2009.
Speaking at the Capital Assurance main office at  the Sankung Sillah building opposite Fajara War Cemetery, the managing director of the company, Kunle Adegboye, said his company deals only with life products, adding that Capital Express Assurance Company has it base in Lagos, Nigeria.
"We operate in other West African countries namely, Liberia, Ghana, Kenya, Sierra Leone and the Gambia".
"By the grace of God, next year we will open other offices in South Africa and Mauritius," he announced, adding that they want Capital Express to be a company that would be operating in all the African countries.
Mr. Adegboye says they will continue to remain focused on the aspects of what they ought to do best.
"As part of our business strategies for 2011, Capital Assurance Gambia will aggressively promote life insurance products," he said, adding that "as part of our expansion project, we have started a massive agency network process by recruiting different cadre of agents for the distribution of products to the people of the Gambia".
The Managing Director Capital Assurance Global Franchise Ltd based in Lagos, Nigeria, Niyi Onifade, said the Capital Assurance Gambia is in the Gambia for the benefit of the Gambian people, and that their main focus is to satisfy the life insurance needs of the people of the Gambia.
"One of our strategies is to take life assurance to the grassroots level through its suites of micro insurance products",  he said, and that they believe that life insurance is beneficial for all, and has to be made accessible and affordable to the low income earners.
With Capital Assurance, anyone can make adequate financial protection for his or her family members, he went on, adding that they also want to make partnership with banks in the country.
This partnership is in the area of provision of credit life insurance for the customers of the banks, in case if the customers cannot repay their loans because of death, disability or loss of employment, Capital Insurance repays on their behalf.
"May I announce that our new state-of-the-art insurance software will be launched in the early next year. Work is already at an advanced stage on the development of the application, and this will go-live early next year", he announced.
According to Mr. Onifade, Capital Express Assurance Gambia Ltd is a member of Capital Express Assurance Group which has its head office in Lagos, Nigeria. They are aware that the Government of the Gambia is doing its best to make sure that Gambian people live in a comfortable place.
"We don't want to come to the Gambia to make money and go; that's not part of our plans or focus. Our focus is to do business here in the Gambia, make money, provide employment for the Gambians and invest money we make in the Gambia to take the Gambia into the next level," he said. He said they believe that Gambia is a country they can make remarkable achievements.
He said he can say it loud that they are the only specialist life office in the Gambia. "That means we don't provide medical insurance, fire insurance; the only thing we provide is life insurance".
Mr. Onifade said his company will come up with a scheme which will be in line with the Islamic injunctions, and finally assured their customers and intending customers that they will get their money anytime they claim.
Capital Express Assurance Gambia belongs to a group operating in different countries, according to the insurance company official.
Read Other Articles In Article (Archive)