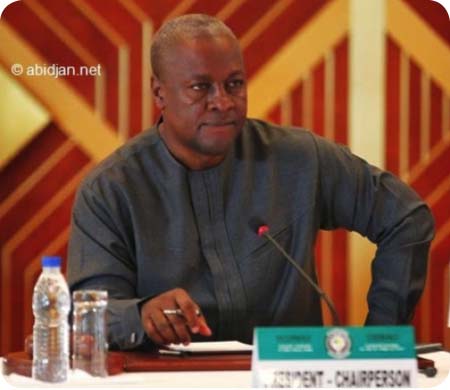 The 44th ECOWAS summit which ended Saturday in Yamoussoukro, the Ivorian political and administrative capital, elected President of Ghana John Dramani Mahama as the new chairman of the sub-regional organization.
"I am pleased to announce that yesterday the heads of state have come together and decided to elect our brother, President John Dramani Mahama, as head of ECOWAS," announced the Ivorian head of state, Alassane Ouattara.
As many as 13 of the 15 ECOWAS heads of state, including President Yahya Jammeh, participated in the 44th ordinary session, Cape Verde and Togo were represented by their prime ministers.
President John Dramani Mahama is the 24th chairman of the ECOWAS Authority, and becomes the third Ghanaian president after Jerry John Rawlings (1994-1996) and John Agyekum Kufuor (2003-2005) to chair the body.
He was born November 29, 1958 at Damongo Ghana. A communications consultant by profession, he is a product of the ruling National Democratic Congress. He was minister of Communication of President Jerry Rawlings (1998-2001) before being elected vice-president of Ghana on 28 December 2008 alongside John Atta-Mills.
With the sudden death of John Atta-Mills, John Mahama replaced the late president on July 24, 2012 for the period until the presidential elections of December 2012, as required by the Ghanaian Constitution.
As candidate of the NDC, John Mahama was re-elected president of Ghana on December 7, 2012 and was sworn in on January 7, 2013.
Despite a legal challenge from the opposition led by Nana Akufo-Addo regarding the constitutionality of Mahama's succession to power, Ghana's supreme court confirmed on 29 August 2013 the legality of his election as Ghana's head of state. A father of seven children, Mahama is a faithful member of the Church of the Assemblies of God.
EndFragment
Read Other Articles In Article (Archive)