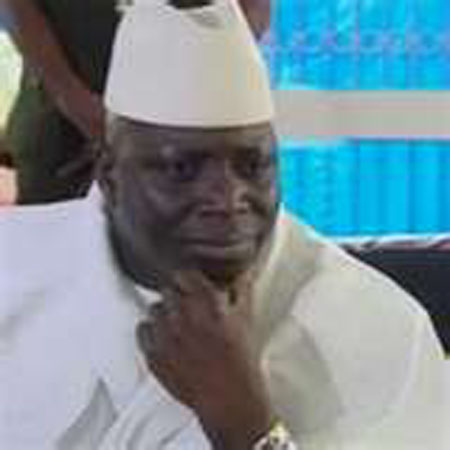 Incumbent President Yahya Jammeh continued his campaign for re-election for a fourth term in office on Tuesday with meetings in Bansang and Gambisara, where he told thousands of his supporters that his government has in the offing new projects for the Gambian people.
Maintaining that he is not on a campaign, but on a "Thank You" tour to thank Gambians for rallying behind him for the past 17 years, Jammeh said, among others, that such projects will include the provision of boreholes to promote year-round farming.
Noting that this year's farming season may not be as good as that of last year, the Gambian leader urged farmers not to sell all their produce.
He also commended the people of the Central River Region for rallying behind him since he came to power.
"For 17 years now, you have been rallying behind me. If you see Yahya Jammeh being a president, it is God's wish; after God it is also your support that you have been giving me. So I will thank you for your wonderful stance, and good heart for me and the party."
Jammeh further reiterated his earlier calls for Gambians to nurture the peace and stability in the country, and avoid anything that can bring violence.
"Election does not worth violence. Come 24th November, go peacefully to the polls and vote. It is you that developed this country, so if you are harassed and you can't bear it, go to the security and report," he said, adding that he wants a peaceful election.
Noting that anyone found instigating violence during this period will be dealt with, President Jammeh urged his supporters to distance themselves from meetings being held by the opposition, so as to avoid violence.
"If they insult or harass you, please report them to any of the police stations or any security outlet close to you. I don't want any form of violence in this election," Jammeh told his supporters.
Mrs. Tenengba Jaiteh, APRC party liaison officer for Central River Region, who is also the deputy minister of Petroleum, in her speech, highlighted what she said were the tremendous development projects brought by the Jammeh administration.
According to her, these coupled with many others are some of the reasons why people continued to rally behind President Jammeh and the ruling APRC party.
Describing the Gambian leader as the number one farmer in the country, Tenengba Jaiteh expressed optimism that President Jammeh will win the 24th November polls with a landslide victory.
Yankuba Touray, former APRC national mobiliser and one-time minister of fisheries and water resources, also called on the people of the Central River Region and Gambians in general to vote massively for President Jammeh in the coming polls, citing the infrastructure development projects brought by the Jammeh administration.
Lamin Kaba Bajo, minister of Fisheries, Water Resources and National Assembly Matters, who is also the APRC campaign manager, renewed his earlier call on Gambians to come out in their large numbers and vote massively for President Jammeh.
According to him, the new biometric system of voting will help a great deal in knowing those who voted and those who did not.
Mrs. Fatou Trawally, lady councilor Lower Fulladou West, commended President Jammeh for empowering Gambian women, while promising him a landslide in the Central River Region.
"We will vote massively for President Jammeh, come 24th November 2011," she assured the Gambian leader.
Biran Baldeh, Chief of Upper Fulladou West, Alhagie Jibel Bouye, constituency chairman Upper Fulladou West, and Momodou Lamin Baldeh, Chief of Lower Fulladou West all assured President Jammeh of a landslide victory.
Read Other Articles In Article (Archive)