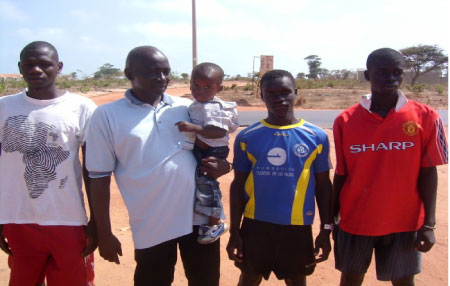 Brufut Marathon Club, formed two years ago by the Brufut Marathon Association, on Sunday held its monthly training at a distance of 1.5km.
Speaking to pointsport shortly after the event, Ba S. Jabbi, coordinator of the Brufut marathon, said the club is an arm of the Brufut Marathon Association, and that founders of the association came together to form the club so that they can organize running competitions throughout the year.
Mr Jabbi revealed that Brufut used to hold its running yearly but this monthly activity is a way of informing the public about their prominent yearly marathon.
There are running clubs in the world the type of which The Gambia does not have, the coordinator said, adding that Brufut, being a premier marathon runner in the country, would want to kick-start running clubs throughout The Gambia.
Jabbi, however, highlighted the objectives for forming associations and partnering with others in the UK and other parts of the world as well as scouting good runners participating in running globally.
He added that they usually stage runnings to scout the best runners and to give them necessary support to improve on their performance at the local and global level.
Jabbi said one of the challenges they encounter is that most people do not take marathon sport seriously, adding that some people do not even appreciate the importance of what they do.
Finance is another constraint they encounter, Jabbi pointed out, saying the funding they receive comes from a philanthropist, a runner in England called Martin Mayers (kilty runner), who normally supports them in facilitating the activities.
They also lack technicians who should teach on the development of running, he said, adding that they are looking at receiving the aid of technicians on voluntary basis.
Jabbi said further that they are welcoming fresh runners from school as well as the neighborhoods to take running seriously, adding that their upcoming running will be held on 24 June 2012 at10am from Brufut Gamtel junction to the Brufut Primary School.
Read Other Articles In Article (Archive)