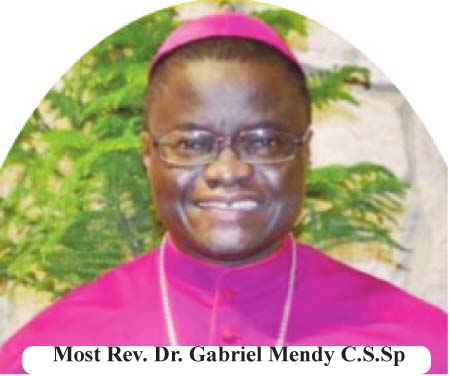 Most Rev. Dr. Gabriel Mendy C.S.Sp. Catholic Bishop of the Diocese of Banjul has said that everybody is required to pray for peace and unity for our beloved country and motherland, The Gambia.

Bishop Mendy made these remarks last Saturday at Kunkujang Mariama during the exhortation on the national day of prayer for peace and unity and added that what prompted him to consider the problem and dangers of presumption or taking things for granted is because he believes Gambians have taken peace, unity, and mutual co-existence in the country for granted for a very long time.
He highlighted that we are not actively involved in praying, promoting, and preserving the peace and unity God has granted us because we believe that come what may, there will still be peace and unity among us.
"There is almost a sense of entitlement to peace and stability that is now misleading and tempting individuals and groups to be unreasonable and insensitive in their conduct, actions, statements, and demands," he pointed out.
He noted that since independence, we have generally lived in peace, stability, and mutual co-existence, adding that we think it is bound to be the same way even if our attitudes and mentalities, core moral values and beliefs, and system of administration, government, and constitution change.
He was quick to add that none of us can afford to take peace, unity, and stability in our country for granted no matter who one is; whether a majority or a minority, a Muslim or Christian, civilian or service man or woman, a politician, public figure, or private citizen.
According to him, peace, unity, and stability form the core pillar and foundation of our society on which our very existence, survival, and progress depend.
"If anyone decides to trivialise the value and need for peace and unity or we allow ourselves to lose the peace we have enjoyed from God for so many years, then we will never be the same again as a country and as a people," he remarked.
"Each and every one of us, not just religious leaders and public figures should, therefore, be seriously committed to praying, promoting, and preserving peace, unity, stability, and mutual co-existence for the good of us all."
He stated that we should be peacemakers, messengers of peace and peace builders of our own country today because there are so many people and places where there is hatred, injury, pain, doubt, sadness, division, and misunderstanding.
He strongly pleads with all Gambians at home and abroad to not allow themselves to be used by anyone to initiate and support violence, threats, lawlessness, and destruction of life and property.
"No one can deny that we have different political, religious, tribal, and social convictions and outstanding problems to address. But that does not legitimize or justify any use of violence that is intended to disrupt public order, peace, and national unity," he pointed out.
Read Other Articles In Article (Archive)