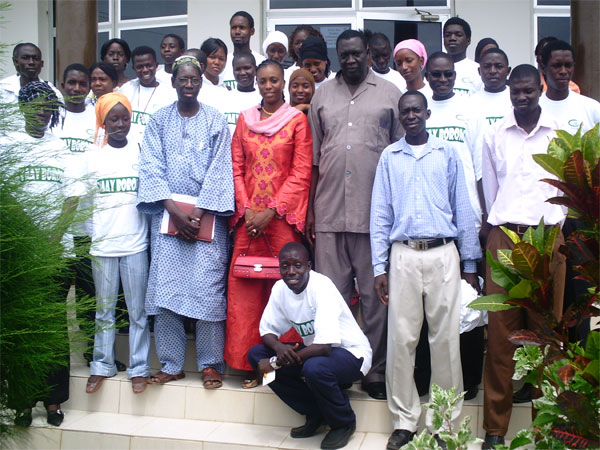 The Young Journalists Association of The Gambia yesterday held its 1st anniversary celebration at a colourful ceremony held in the NaNa Conference Hall in Bakau.
The theme for the first anniversary celebration was "The Role of Journalists in National Development". The festivities included a march passed from Observer Junction to the conference hall.
Speaking at the occasion, the president of YJAG, Nfamara Jawneh, said that the association was formed on the 16th of September 2007 and aims to build the capacity of young journalists, both practicing and aspiring. He stated that the association aims to also compliment the efforts of The Gambia Press Union by promoting press freedom and the general welfare of its members.
He revealed that the day was one of sober reflection on the achievements and constraints that have faced the association during the year. He said that in pursuance of it goals YJAG, on the eve of yesterday's anniversary, concluded a one-day capacity building workshop for about 40 of its members drawn from various media houses and press clubs at the Nusrat Senior Secondary School.
He further revealed that despite numerous achievements, there is a need to improve in making The Gambia more press friendly and also to inculcate a greater spirit of responsible journalism in young journalists. He thanked the managing Director of The Point, Mr. Pap Saine who he said has been very supportive of the association during the course of the year. He also expressed delight at the attendance of the Secretary of State for Information and Communication Technology, Fatim Badgie Janneh and all those others who made the effort.
Mr. Pap Saine, the managing editor of The Point newspaper expressed appreciation to YJAG for its trmendous contribution to the improvement and development of young journalists in the country. He urged them to work hard and aim to always realise their dreams and aspirations.
For her part, the Secretary of State for Information Communication and Technology, Mrs. Fatim Badjie Janneh, thanked YJAG for their benevolent contribution towards the development of The Gambia. Mrs. Badjie Janneh also challenged the young journalists to report true stories and avoid reporting false information. She advised the young journalists to work hard and be committed to their profession. She finally called for attitudinal change within the profession and that all report on the issue of development. Halifa Sallah made a presentation entitled "The Role of the Media in National Development". Mr. Sawaibou Conteh dilated on the topic "Opportunities and Challenges in the Media". The vote of thanks was delivered by the public relations officer of YJAG, Assan Sallah, who thanked all the delegates and members for their attendance. He urged the members to always work hard and help to realise the dreams of YJAG. The closing remarks were delivered by Mrs. Amie Bojang the board chairperson of YJAG.
Read Other Articles In Article (Archive)