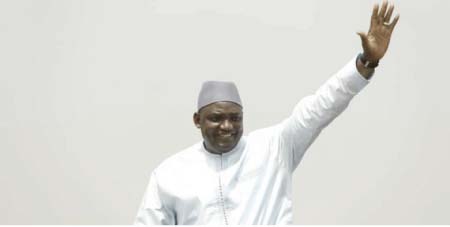 President Adama Barrow has announced he will register his own political party before the end of December 2019.

Mr. Barrow made the disclosure at the climax of his Meet the People Tour held in Banjul over the weekend.
Barrow, who said his party was set for registration claims majority of Gambians he met during the tour asked him to form a political party that will contest for the upcoming 2021 Presidential Elections. He added that Gambians have already spoken their minds and given their consent for him to form a political party.
"After all meetings we had with people across the regions in the country, Lower River Region, Central River Region, North Bank Region, Upper River Region, West Coast Region, Kanifing Municipality and Banjul asked me President Barrow to form my own political party and I am here today, affirming that I am going to register my own party before the end of December and which will also be launched in January, 2020."
"This is what I was waiting from Gambians to decide whether I should form my own political party or not, and now; as you have already decided for me to form a political party, this is to inform you that before the end of December, I will register my party and launch it in 2020," Barrow declared.
"We do not want you as Gambians to be afraid of us because it is you who have voted us in power and tasked us to work for the development of the country. And that is why before we do anything as a government, we must first seek your consent as citizens."
In The Gambia the signature of about 10,000 registered voters and a deposit of D1 million are required by the election laws for an aspiring political party before being accepted; and just recently a newly political party has registered with IEC totaling the country's political parties to 11. However, 30 other more parties are also expected to register with the Independent Electoral Commission in the very near future.
Read Other Articles In Article (Archive)