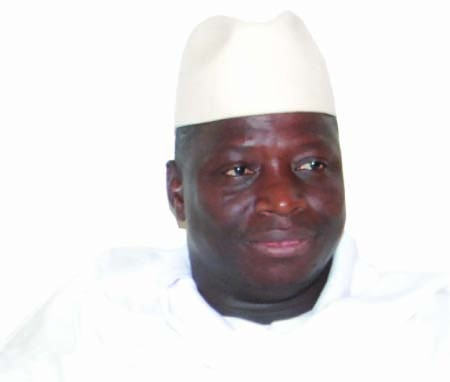 President Yahya Jammeh has promised to wipe out what he called lackadaisical attitudes at workplaces, stressing that people should either do their work, go home or go to jail.
"If you work hard, I have no problem with you, and I will be with you; I will support you all the way; but if you don't want to work, go home, because if you don't want to go home, if I find you there, you will regret why you were born," Jammeh said in an interview with GRTS on the eve of his inauguration for a fourth term of office.
Noting that The Gambia is a democratic country, Jammeh stressed that people cannot be paid salaries, while they are not doing their work as expected.
"You go to the Royal Victoria Teaching Hospital (RVTH) or any hospital, for that matter; what we thought was history is coming back and, that is, you go there and the nurses do not care. They sit chatting, and they are very rude! Or the doctors are nowhere to be seen and, at the end of the day, they are being paid salaries," he said.
Tough-talking Jammeh said that Operation No Compromise would apply to the fight against corruption, drug trafficking and lackadaisical attitude at workplaces, adding that a lot of people will this year go home, and a lot of people will also go to jail.
Expressing his desire to turn the Gambia into an economic superpower, the Gambia leader called for attitudinal change, noting that this is even more important that financial resources.
"I'm not going to relent on Operation No Compromise; nurses or doctors that are not willing to work, they better go home before I find them there; because if I find them there they will go to jail," he warned.
In his view, a nurse is supposed to be a caring person, but not someone who is rude, and receiving a salary but not attending to patients.
"This is not going to happen, and any day I go there (RVTH), I am going to wipe out three-quarters of the nurses there. I'm just taking my time; I have given a warning to the Minister, and this is not only a warning to the RVTH administration and management,  but to the entire hospital and medical fraternity in this country; work or go home," Jammeh further stated.
Promising that Gambians will see a different Yahya Jammeh, the Gambian leader said he will be more dangerous now that even when he was wearing a military uniform.
"There are certain attitudes that I will not accept. Sometimes, when you are too lenient, people dance on your head, but they will see a different Yahya Jammeh," he said, emphasizing that people cannot receive a salary for no work.
Jammeh further threatened that unless people change their attitudes, he will wipe out more than 80% of those in the workforce including in the medical field, civil service, security services, among others.
Asked where he will place women in the next five years, Jammeh said the key players in this country are women, who continued to contribute to the socio-economic development of the country, he continued.
"For the women of this country; I say the sky is the limit, and I will say it again; if I can take my blood to give it to Gambian women for them to prosper, I will do so. As a Muslim, if you are not grateful to people that stand by you, you will never be grateful to God," he said, adding that he owes a lot to Gambian women.
Jammeh promised that women and the youth of this country will be his highest priority because, according to him, from day one, the women and youths have shown they trust him and believe in him.
"I will be with them all the way; I will never disappoint them," he declared.
Commenting on security matters, President Jammeh maintained his earlier assertions that he will never compromise the security and stability of the country.
"The security of this country, I'm not going to compromise. Why would you expect me to allow a stupid person to destroy what we have toiled for so hard, 17 years to date? I will not compromise this from anybody," he said, adding that Gambians want progress.
Jammeh also emphasized that the security of the country will not be compromised to please the minority.
The laws of this country, he said, will be applied to the letter.
Read Other Articles In Article (Archive)