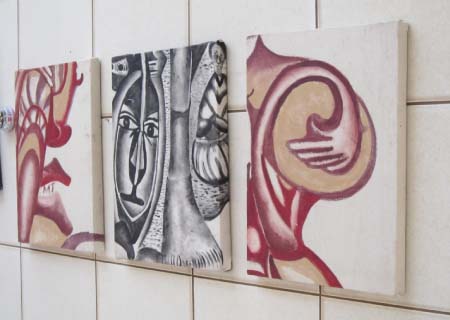 Three Gambians artists, namely Matarr Jatta, Malick Ceesay and Amadou Barry, are currently exhibiting their artwork at the Alliance Franco-Gambienne.
The aim of the exhibition is to showcase their talents in art at an exhibition proudly organised and sponsored by Koy Ning fing Art Foundation-The Gambia.
Speaking in an interview with Entertainment on Tuesday at the Alliance Franco, Diana Van Weert, a Belgium national and the brain behind it, thanked the Gambian authority for providing a conducive environment, and the three Gambian artists involved in the all-important exhibition.
She said the objective of organising the exhibition is to showcase the talents of artists in The Gambia and expose them to the world.
"My intention is to have more exhibitions in the future, particularly women exhibition because this foundation is headed by a woman," she said. "If there are any women artists in this country we would be glad to meet them."
Madam Diana said the foundation was formed in The Gambia in 2012 with the aim of promoting artists in showing their talents in arts.
There are good artists in The Gambia but the problem is their lacking of formal education; they therefore need a lot of support, she said.
She also told Entertainment that come May 8, the exhibition will be celebrated, adding that the exhibition is purely for African paintings trying to change the formality of the artists compared to those of other artists within the sub-region.
"This artwork is not for sale but to promote and see their talents," she said.
"The exhibition is called Black and White, which is why we ask the artists to focus on the black and white.
Diana therefore thanked the director of Alliance Franco for giving them the opportunity to do the exhibition as well as to look for local artists to participate in the exhibition.
"I think this is a nice exhibition to start to symbolize the name black and white. It also symbolizes the cooperation between Europe and The Gambia.
Read Other Articles In Article (Archive)