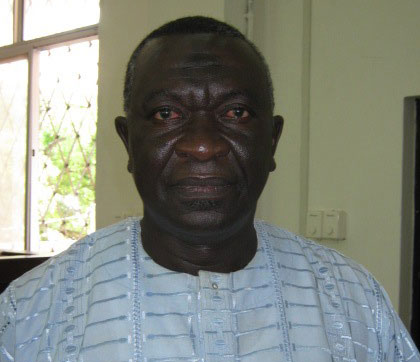 Abdoulie Sonko, one of the alleged Farafenni army camp attackers, yesterday opened his defence in the treason trial brought against him at the High Court in Banjul before Justice Emmanuel Amadi.
Sonko in his defence told the court that he lives in Nuimi Berrending and was a teacher in 1978, but later joined the Gambia Public Transport Corporation (GPTC), as a bus conductor.
"In 1991, I was a businessman until 1996 when I moved to Ivory Coast, where I opened a tea shop and started business in tea," Sonko told the High Court.
When asked by his defence counsel L.S. Camara whether he was aware that he was charged with three counts of treason, Sonko responded in the affirmative.
When again asked by his counsel whether he was aware that he was charged with six counts of murder, he again responded in the affirmative.
As to what was his response to the allegation that he conspired with Ballo Kanteh, Omar Dampha, Sulayman Sarr, Essa Baldeh, and Yaya Drammeh, to endeavour to overthrow the Government of The Gambia, Sonko in reply said, "I have no idea about that."
His counsel further put it to him that it was also alleged that he and the above mentioned names attacked the Farafenni army camp on 8th November 1996.
"On 8th November 1996, I was in Ivory Coast, and I never met the abovementioned names, except at Mile 2," Sonko responded.
Further informed by his counsel LS. Camara, that he was also accused of murdering one corporal Saikou Sidibeh, corporal Essa Keita, private Essa Manneh, staff sergeant Lamin Badjie, private Bakary Saidy and private Ebrima Bojang on 8th November 1996, Sonko again responded: "My lord, all the allegations are untrue, because I was in Ivory Coast."
Also asked if he knew Abdoulie Sidibeh, Sonko told the court that he met Abdoulie Sidibeh at the Banjul Magistrates' Court on 8 May 2003, as an interpreter.
"On 8 August 2003, on a Friday, while I was in the dock, Abdoulie Sidibeh (PW2) asked me what language do I speak, and I told him I speak English," Sonko said in response to an allegation made against him by the prosecution's second witness, Abdoulie Sidibeh.
He added he sat down, and the case was adjourned based on the application made by the then Director of Public Prosecutions, Emmanuel Agim.
Sonko alleged that one NIA officer came and whispered to Sidibeh whether he knew him (Sonko), and that Sidibeh said he did not know him, adding that both Sidibeh and him were later arrested by the military officers and taken to the NIA headquarters before a panel.
At the NIA, Sonko added, Sibideh was again asked whether he knew him (Sonko), and he said "No".
He adduced that Sidibeh was later taken out and brought back, and was again asked whether he knew him (Sonko), and he again said, "No".
Still testifying, the defence witness one told the court that Sidibeh at that juncture was slapped by one NIA officer with two hands, and he fell down. "It was then he said he knew me," Sonko added.
"He was asked where he knew me, and he said he knew me in Niumi and in Liberia, where he met some members of my organisation who gave him food and, after eating it, he collapsed," he told the court.
Sonko revealed that Sidibeh was charged with treason at the NIA, and was taken to Mile 2 prisons together with him, whereas he (Sonko) was not charged.
"Sidibeh was never tried in court, and he was not in Mile 2. After testifying against me, he was set free," Sonko told the court.
Sonko refuted the allegation that was levelled against him by Sidibeh that he was a member of SOFA (reportedly an orgnisation of dissidents), and that he had given him poisonous food.
He also denied being seen by Sidibeh at Farafenni Army Barracks, because he was not there.
The case was at that adjourned till 24th February 2011.
Read Other Articles In Article (Archive)