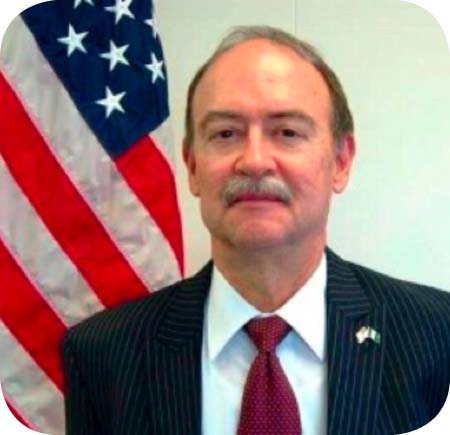 The United States government through its embassy in Banjul has extended its appreciation to the Gambia government, for its cooperation and firm stance to the fight against terrorism and its contribution to peacekeeping operations in Africa.
The outgoing US Charge d' Affaires, Joseph D. Stafford, was speaking to The Point in an exclusive interview yesterday at the embassy, where he made constructive comments and expressed optimism on the future of US-Gambia relations, as well as commended the Gambia government for its collaboration and commitment.
Charge d' Affaires Stafford, who left Banjul for the United States yesterday, will be succeeded by another ambassador following the approval of the White House Senate. 
Asked about the current status of the two countries' relations, he pointed out "there are challenges, but we are committed to dialogue on the basis of goodwill and we sincerely like to move the relationship forward."
Stafford, who said he cherishes The Gambia and its people, revealed that they are not interested in regime change, but rather interested in a positive dialogue and strengthening relations, which is fundamental towards nation development.
He said he is hopeful there would be an open dialogue for The Gambia to present its concerns.
His earlier 2004 to 2007 diplomatic term in The Gambia was a good experience working with the Gambia government, and his hopes are to continue further in the development and strengthening of human rights including civil societies and security, for which they are ready to open a dialogue with the government.
He said that during his recent four-month tenure, he had the chance to meet with Gambians from all walks of life, who have all expressed their gratitude for the grassroots-level efforts of US Peace Corps volunteers to improve the quality of life for the Gambian people.
Stafford, who visited US Peace Corps volunteers in the far east of The Gambia, said meeting with them was a reminder to him that Peace Corps volunteers are present throughout the country in each of The Gambia's six regions, where the volunteers are serving the local communities, building capacity and promoting sustainable development in education, health, environment and agriculture.
He thanked the Gambia government for the donation of the Massembeh Training Centre to the Peace Corps volunteers.
He said he would miss The Gambia with good memories left behind.
Read Other Articles In Article (Archive)