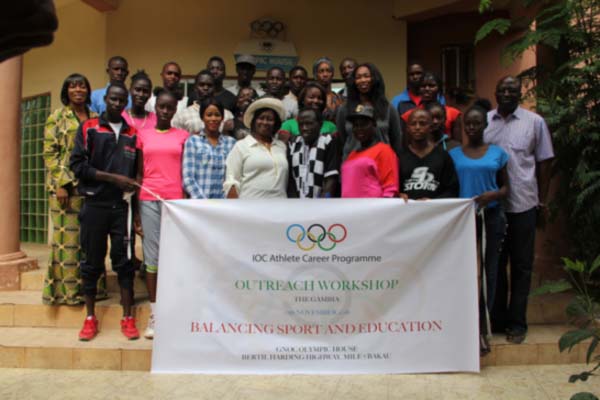 The Gambia National Olympic Committee (GNOC) on Sunday hosted a session of the International Olympic Committee's (IOC) and Adecco Athlete Career Outreach Programme Workshop at the Olympic House at Mile 7 in Bakau.

The workshop was delivered by Association of National Olympic Committee of Africa (ANOCA) Athlete commission member and IOC/ACP trainer Mrs Kadidiatou Kanoute Tounkara, former basketball player, Olympian, 5-time French National champion.
40 Athletes aged 16-20, drawn from National Sports Associations, took part in the maiden international Workshop for Athletes in The Gambia.
The aim of the day workshop was to help athletes prepare for their careers after retirement from elite sport.
Speaking at the opening ceremony, Gambia's International Olympic Committee (IOC) member and first vice president of Gambia National Olympic Committee (GNOC), Beatrice Allen, said GNOC works based on the dictates of the Olympic Charter in which the development of athletes is key on the Agenda 2020.
She added that balancing sports and education is a condition for any athlete to be successful in life.
She spoke on the need for grassroots sports development which cannot be achieved without well trained coaches, a priority for the current GNOC Executive for the next four years leading to Tokyo 2020.
Ms Beatrice Allen, who is also the chairperson of ANOCA Women in Sports Commission, believes that IOC career outreach programme in The Gambia will surely change the landscape of athletes' achievement, especially after their sporting career.
Speaking earlier the IOC/ IOC trainer Mrs Kadidiatou Kanoute Tounkara said the outreach programme started in 2005 when IOC realised the importance of life after sporting career.
She added that the goals of the IOC/ACP outreach programme are to provide hands-on workshop to athletes with focus on three pillars, namely education, life skills and employment and assistance to athletes to achieve success both on and off the pitch by supporting them at different stages of their sports career from young to retiring stage.
Mrs Tounkara hailed the Gambia National Olympic Committee (GNOC) for coming up with such a workshop for Gambian athletes.
The GNOC is one of a number of governing bodies worldwide which has put schemes in place to assist its sportsmen and women to clear the void left by competitive action.
Read Other Articles In Article (Archive)