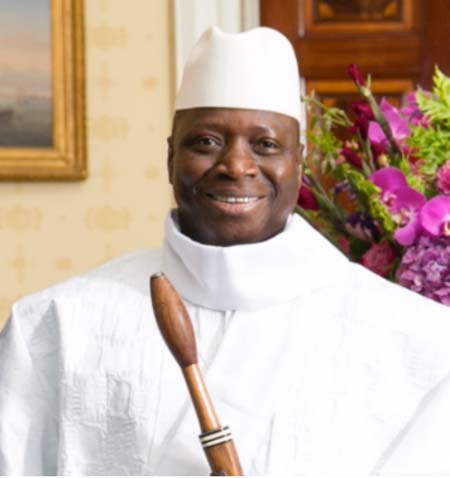 President Jammeh addressing thousands of his supporters in Brikama has urged Gambians to maintain peace, stability, to be calm, exercise restraint and show obedience to law and order during and after the election.

"There will be zero tolerance for violence, and anyone that shows disregard for public order will face the full force of the law.
"Gambians irrespective of their constitutional rights should vote in the December 1st election; they are obliged to uphold the prevailing peace, and desist from scuffles.
"Democracy and election has nothing to do with violence. I am not only warning APRC supporters, but I am warning all Gambians against violence, before, during the election or after election. I will have zero tolerance for violence in this country."
He told APRC supporters: "What you can do on 1st December is, go and vote, and go home. For the sake of Allah and the love you have for me, even if they insult my mother in your presence, just go away.
"Because if you move away, they will not follow you; if they follow you, just go to the nearest police station to report the matter; so also to the opposition, if you are insulted by the APRC supporters and they want violence, go to the police and report them."
"Law enforcement is neutral. In terms of law enforcement, you do not belong to any political party."
President Jammeh went on: "I am urging all electorate to vote massively for the candidate of their choice."
Talking about voter apathy, he said it is illegal and a waste of government funds if people do not go out to vote.
"Vote and go home to wait for the results," President Jammeh said. "We will not tolerate any forms of violence, during and after the election."
The country will only rely on Allah for the development of the nation, he reaffirmed.
The president insisted that the people should vote for progress and not for retrogression.
Jammeh once again condemned homosexuality, which is ungodly act, he said.
Sanyang and Sinchu Alagie meetings
The ruling APRC on Saturday held mass rallies in Sinchu Alagie and Sanyang, both in the West Coast Region.
Hon. Bala Garba Jahumpa, campaign manager of APRC, who presided over both meetings, said President Jammeh did not attend the meetings in honour of the demise of Fidel Castro.
He described Castro as a true friend of The Gambia that supported the July 22nd Revolution, saying over 400 Gambian students studied in Cuba and are serving in various sectors of society.
Balla said President Jammeh is a true Pan-African leader, who has the welfare of Gambians and Africans at heart.
Mayor Colley, APRC national mobiliser, said the APRC would not welcome defectors after the elections.
He thanked the people of Sinchu for the large turnout.
Minister of Basic and Secondary Education, Fatou Lamin Faye, called on Gambians to vote massively for President Jammeh, saying Prof. Jammeh has ushered in unprecedented development in the last 22 years.
Nominated NAM Hon. Seedy Njie highlighted a list of communities that are set to benefit from water and electricity supply within the area.
Other speakers included Alkalo Salief Ceesay of Sinchu, Ousman Gaye, Musa Njie and Ndey Mbaye, who all assured the President of their support and loyalty.
According to Bala Garba Jahumpa, President Jammeh's government has spent a lot of resources on production of voter's cards.
Therefore, it will be unacceptable for registered voters to reluctantly sit at home and refuse to cast their votes.
Read Other Articles In Article (Archive)