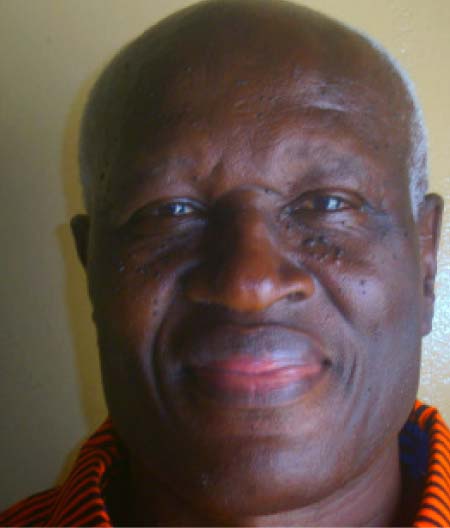 "The eternal God is your refuge, and underneath are the everlasting arms. He will drive out your enemy before you." (Deuteronomy 33:27)
To say that the world is going through challenging times would be an understatement. COVID-19 has reared its ugly head the world over in every nook and cranny and is claiming innocent lives. When we turn to the Scriptures, it brings to mind Apostle Peter's warning to us in these terms: "Be self-controlled and alert. Your enemy the devil prowls around like a roaring lion looking for someone to devour." (1 Peter 5:8)
The Scriptures abound with passages that speak to circumstances like these and we therefore should not lose heart. For one thing is certain: "If you faint in the day of adversity, your strength is small." (Proverbs 24:10) The year 2020 constitutes a test case for all Believers to ascertain whether we believe with our mouths or with our hearts. Since the start of this pandemic, who have you been calling on? In whom have you put your trust?
Hear what the Psalmist in the midst of trouble declared: "I lift up my eyes to the hills where does my help come from? My help comes from the Lord the Maker of heaven and earth. He will not let your foot slip – He who watches over you will not slumber; indeed He who watches over Israel will neither slumber nor sleep." (Psalm 121:1-4) Whatever the nature of the adversity, it was obvious that the Psalmist did not shrug his shoulders as if to dismiss it. Rather he invokes the name of the One who is able to successfully handle it on his behalf. He submits to a greater force than his own -- who is well able to adequately resolve the problem at hand. That puts him in position of strength. He does not make any attempt to garner strength from any quarters. He builds his courage up with words that exalt the Only True God, the Lord of Hosts and then stands aside to watch.
COVID-19 has been credited with all kinds of capabilities to the extent that it has only succeeded in driving fear into the hearts of the populace. In so doing, COVID-19, the enemy, has been made to look much more powerful than the God of Abraham, Isaac and Jacob. If we had as a nation gone on our knees to cry to El Shaddai, the All-Sufficient God, the situation would not have gotten out of hand or blown out of proportion to climax into a state of emergency.
The nation has been peddling fear rather than faith in the One who is the same Yesterday, Today and Forever – who has never lost a battle and never will. "Call to me and I will answer you and tell you great and unsearchable things you do not know." (Jeremiah 33:3) COVID-19 infections, with the right attitude at the onset, should not have reached such alarming proportions. We have lacked wisdom -- something God gives freely. "If any of you lacks wisdom, he should ask God, who gives generously to all without finding fault." (James 1: 5)
This crisis reminds me of the story of a young shepherd boy in the Holy Bible named David who became renowned after his encounter with a giant called Goliath. The latter had intimidated the whole army of Israel into total paralysis.
When young David entered the scene, he did not require an armour to fight the seasoned, veteran champion. His sword was the infallible Word of God. "Who is this uncircumcised Philistine that he should defy the armies of the Living God?" (1 Samuel 17:26) He boasted in the name of the Lord of Hosts. His words of assurance to King Saul were: "Let no one lose heart on account of this Philistine; your servant will go and fight him." (1 Samuel 17:32) He had every reason to fear Goliath who was six feet and over in height.
David knew who was backing him. He did not face Goliath in his own strength in spite of his personal trophies when he slaughtered a bear and a lion for wanting to devour a lamb out of his father's flock. He threatened Goliath: "This day the Lord will hand you over to me ... and the whole world will know that it is not by sword or spear that the Lord saves; for the battle is the Lord's ..." (1 Samuel 17:46-47)
God is not moved by the obstacles that limit and intimidate us; so any harboured fear must disappear. "So do not fear, for I am with you; do not be dismayed, for I am your God. I will strengthen you and keep you. I will uphold you with my righteous right hand." (Isaiah 41:10)
Our God is not distant nor is He unaware of what we are going through. He will put us in the arena to test our faith level and our resilience and confidence. "And we know that in all things God
works for the good of those who love him, who have been called according to His purpose." (Romans 8:28)
The Apostle Paul confirms God's ability to rescue us in times of danger. He is "... Him who is able to do immeasurably more than all we ask or imagine, according to His power that is at work within us..." (Ephesians 3:20)
God will never abandon His children. The God of compassion is saying to you during this period: "Though the mountains be shaken and the hills be removed, yet my unfailing love for you will not be shaken nor my covenant of peace be removed." (Isaiah 54:10)
God has permitted this pandemic so that the world would return to Him—the Supreme Creator of the world.
Read Other Articles In Biblical Reflection