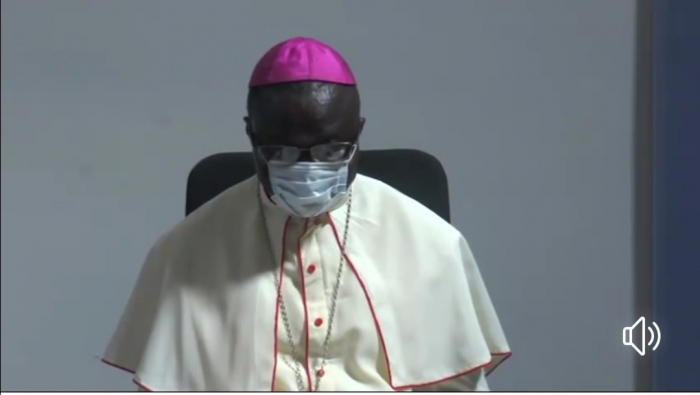 Theme: THE POWER OF GOD'S RIGHT HAND IN MARY'S ASSUMPTION INTO GLORY
On this day we celebrate in a very somber and peculiar way the Solemnity of Mary's Assumption into heaven because of the Covid – 19 pandemic, I would like to deliver my message on the power of God's right hand in Mary's Assumption into glory. For obvious reasons as the Virgin Mother of our saviour, our focus and attention tend to center more on Mary whenever we celebrate her feasts even her assumption into heaven. But the proper and right orientation and spirit of devotion that the Church promotes and demands from us is to first of all acknowledge and celebrate God's special act of grace, favor, exaltation, and coronation of Mary in all her feasts and solemnities. Our attention today should, therefore, focus not only on Mary and her assumption into heaven. We should also consider and cherish what God in his power, greatness, and love has done for Mary in assuming or raising her body and soul and reuniting her with her Son Jesus in heaven. During this dangerous and deadly period of the pandemic that has tested and sometimes weakened our faith in God's power to deliver and save us from its devastating effects, it is necessary for us to also recall, remember, and rely on the victory and wonders of God's right hand over the forces of sin, evil, and death, especially, in the life of Mary and his chosen people.
The idea and image of God's right hand in Scripture represents the manifestation of God's strength, power, might, and victory as the creator and redeemer of his people. In both the Old and New Testaments, God is revealed as the source of all power, authority, and might in heaven and on earth so there is no other spiritual being or force that is more powerful, greater, and stronger than God. For God is the one who commands and orders all things in creation according to his purpose, as well as, the one who conquers and destroys the enemies of his people and the forces of sin and evil. These actions and manifestations of God's power are attributed to God's right hand in an analogical or figurative sense to prove his supreme nature and authority over all other spiritual forces. In Ps. 118:16-17, the psalmist acknowledged and trusted in God's power to save him from evil and death. He testified that "the Lord's right hand has triumphed; his right hand raised me up. The Lord's right hand has triumphed; I shall not die, I shall live and recount the Lord's deeds. That I was punished and punished by the Lord but not doomed to die." The psalmist did not discount God's powerful and triumphant intervention in his life that saved him from death. He fully acknowledged God's power and might. Mary also recognized the impact and effects of God's hand in Lk. 1:51. She said "he put forth his arm in strength and scattered the proud-hearted. He casts the mighty from their thrones and raised up the lowly."
The mighty hand and power of God was fully and actively responsible for the assumption of Mary, body and soul into heaven. God already decided from all ages to preserve her from the stain of sin and the corruption of death so at the proper time he fulfilled and accomplished his plan for her without fail. We must, therefore, recognize and appreciate God's power and active role in Mary's assumption as the reason and basis for our celebration of this feast in the Catholic Church. When her earthly life came to an end, God accomplished at least two great and marvelous things for Mary through the power of his right hand. Mary was first of all assumed or raised body and soul into glory by God. She was assumed through the power of God's right hand and not through her own strength or will because it was God's plan and action; not her own personal choice. A place of safety was also prepared for her by God, as stated in Rev. 12:6, when the dragon, representing Satan, attempted to endanger her life with her Son. Her assumption into glory in heaven would not, therefore, have taken place without God's mighty and active involvement. We are required then, according to Pope Pius XII in his prayer to Our Lady of the Assumption, "to praise and bless God who exalted Mary above all other pure creatures."
Mary's magnificent appearance in heaven was also God's own design and special provision for her. When Mary appeared in heaven, we are told in Rev. 12:1, that "she was clothed or adorned with the sun, with the moon under her feet, and a crown of twelve stars on her head." The sun, moon, and crown of twelve stars were beautifully conferred on Mary by no one else but God. She was not, therefore, the one who decorated herself with these celestial and heavenly lights because the sun, moon, and stars were bestowed on her by God. Mary was clothed in the radiant lights of heaven when she was assumed body and soul into heaven. But God was really the source of her splendour, beauty, and honour at her assumption because of his nature and position as the creator of the sun, moon, and the stars of heaven. Otherwise, she would not have experienced and enjoyed this singular privilege of bearing the radiant light of the sun, the moon, and the stars. God is, therefore, capable of drawing and bringing us into the radiant light of his presence and transform our lives from the dark shadows of this world to the glory of heaven, from sorrow to everlasting joy, and from time to eternity. We have, on our part, to be well disposed at heart for us to be raised and glorified by God like Mary.
God fully revealed and proved his power and might in both the assumption and glorification of Mary. His right hand raised her body and soul into heaven and also adorned and clothed her with the sun, moon, and stars. So God's power clearly prevailed over sin, death, darkness, and corruption and all other forces of evil that tend to threaten and weaken our trust in his ability to save us. If God assumed Mary into heaven, offered her a place of safety, and filled her with the radiance of his glory, we should not, on our part, have any doubts of what God is capable of doing for us even in these dangerous times of Covid – 19. As Mary testified in Lk. 1:51-54, the power of God's arm scatters the proud of heart, pulls down the mighty from their thrones and raises the lowly, fills the hungry with good things, sends the rich away empty, and protects Israel his servant on account of his mercy. This rightly proves that there is no situation, problem, or need that God in his greatness cannot change and reverse for the glory of his name and the good of his chosen people. Our current concerns, pain, suffering, and agony that the Covid – 19 pandemic inflicted on us is not, therefore, impossible for God to contain and eradicate forever from our midst.
Mary was well known for her humility, obedience to God's will, trust, purity, and holiness of life. She was perfectly described by Elizabeth in Lk. 1:45 as one who believed that the promises made her by the Lord would be fulfilled. Her faith and trust in God was, therefore, very firm and unshakable while God was accomplishing his plans and purposes for her. Instead of doubting God's promises or even anticipating what God was going to do in her life, she presented herself in her life story in the Gospels as one who just believed and trusted in God's power to act at the appointed time and fulfill his word. So on this day we celebrate what God has done for Mary in her assumption and glorification, we should imitate and exhibit in our lives her disposition of heart, obedience, and steadfast faith and trust in God's power over the forces of sin and death and God's promise to save and raise us up to new life in him. Like Mary, we too should dispose ourselves to be formed, guided, ruled, raised, and delivered from all evil by the mighty power of God's right hand. Since God is able to do so much more than we can ever ask for, or even imagine, by means of his power working in us, as St. Paul noted in Eph. 3:20-21, let us give him the glory in the Church and in Christ Jesus for all time, forever and ever! Amen. On that note, I wish all the priests, religious, seminarians, all the members of Christ's Body, the Church, our Muslim brothers and sisters, Gambians at home and abroad, and people of other faiths a very inspiring, meaningful, and peaceful celebration of the Solemnity of Our Lady's Assumption into heaven.
Your Servant in Christ,
+Most Rev. Dr. Gabriel Mendy C.S.Sp.
Catholic Bishop of the Diocese of Banjul, The Gambia.
Read Other Articles In Biblical Reflection