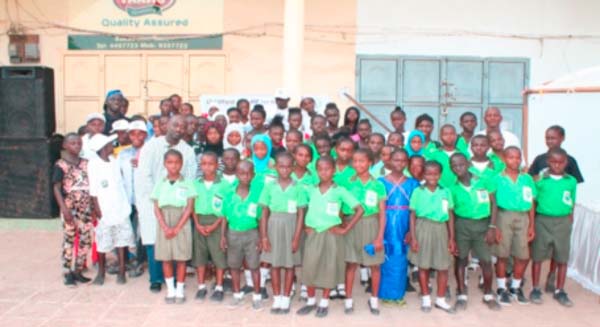 Lamin Manga, Russian Consulate to The Gambia, who also doubles as Chairperson of the Board of Directors of Young People in the Media (YPM) inspired young talents at the recent International Children's Day of Broadcasting organized by YPM in collaboration with ChildFund Gambia and stakeholders in child protection.

The theme was "Empowering Children in a digital World Through Effective Communication".
The YPM Board chairperson spoke on the need to recognise the significant role played by children in shaping a brighter future for every country.
He noted that children, despite been young, should be placed at the forefront of the development agenda in order for them to be prepared for the future.
Mr Manga said it was common knowledge that in The Gambia, children are mostly seen as people without great ideas and that they cannot have a voice to contribute positively towards nations building if this is perpetuated.
"For this reason," he added, "The Young People in The Media will launch the 'Girl in ITC Campaign' in support of the girl child in advocacy and the media."
This campaign will ensure that boys support their female counterparts to raise awareness on issues affecting girls using the media.
He noted'; "We must labour to find solutions to these problems. Children are used as child soldiers and wives in senseless adult conflicts, deprived of their livelihood, education, smooth and uninterrupted growth and development as well as the right to enjoy their childhood."
Manga said in The Gambia, children are faced with different kinds of abuse including physical, sexual and emotional abuse, thus they are at times deprived of the right to education and exposed to extreme and negative conditions.
In most instances, he said, the girl child suffers the most particularly in the area of child marriage.
He called on all present and all nations to reflect on the plight of children and work towards resolving these issues in order to give children a better life.
The International Children's Day of Broadcasting is one of UNICEF's most successful advocacy initiatives.
It supports some of the world's most powerful and influential broadcasting organizations and broadcasters from all over the world to allow children space in their media outlets.
Read Other Articles In Article (Archive)