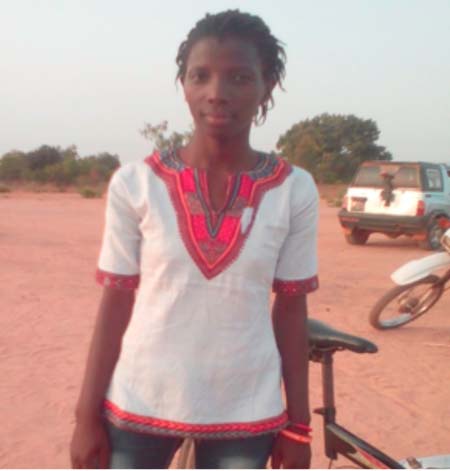 Sarjo Saidykhan, a female coaching a male team abandoned by a male coach due to lack of performance on the pitch, is frustrated by the attitude of football stakeholders who abandoned her and her female team in LRR.

Speaking to her in an interview recently at the Soma Mini Stadium where she was watching a football tournament with her team Kinteh's 11 FC, Sarjo told me that sometimes the only thing that comes to her mind was quitting football due to the lack of support, encouragement from football stakeholders, who only concentrate on male football.
The 20-year-old was so passionate about football that I could see in her eyes that she worships and believes in nothing other than putting on jerseys, soccer shoes and making her way to the pitch to come face-to-face with balls.
She was also desperate at the lack of support from football stakeholders to enable her to make her mark in the game nationally and internationally.
SHE-SHE-SHE: Briefly tell me about your educational background?
Sarjo Saidykhan Kinteh's 11 FC coach in Jarra Khan Kunda said she went to school but stopped at Grade 9.
"I start football when I enrolled in Primary School Grade one. Every day when I close from school, I go to the football field to train. My first game as a female team player was when I was in Grade 5 and I was called from Soma to go and play against Farafenni and we won 2-1 and that was in 2007," she said.
"I still play for the female team here in LRR," she added.
SHE-SHE-SHE: How did you come to coach Kinteh's 11 FC as a female Coach?
Sarjo: Kinteh's 11 had a coach (Baboucarr Drammeh) but the team was not that lucky and they lost every game they played so the coach became fed up and resigned. We called him for a meeting to talk to him but he insisted that he had resigned as coach. So the next game the team was about to play there was no coach to go with them so I was called upon and I decided to coach the team. The team lost that game as well.
I started coaching them at the age of 19 and now I am 20 years old.
The following year, I led the team to another game in Pakalinding as the coach. At Pakalinding, I lost the first game 1-0, I won the second game, lost the 3rd game and I went to quarter finals against Jarra Sy Kunda and won through penalties. Then I won semifinals and lost the final.
Before I took over, the team hardly made it to the quarter finals but with dedication and hard work, I coached them and we reached the final and people were surprised. Some had to pay fare all the way from the Kombos to witness the final, which I lost because luck was not on my side.
SHE-SHE-SHE: How do you feel being a female coach and qualifying Kinteh's 11 for finals for the first time?
Sarjo: Well to me that is normal because football is something that is so dear to my heart and bringing such an achievement to a team abandoned by a male coach is something great. My life and everything I do is football so I am glad to coach the team.
SHE-SHE-SHE: Do you face any resistance from the team members being coached by you?
Sarjo: No they all agree that I will coach them. At that time they do not have a coach so I had to step in and help and that is what I did. I am a humble coach and we train every week as a team and we only take a break after playing a game so that they can gather strength a day or two before we get back to the pitch to train again.
SHE-SHE-SHE: How is coaching for you?
Sarjo: Coaching is nice and I enjoy it a lot. I did it once for my female team at Yundum. I want to concentrate on coaching fully if I get the support and the opportunity because I love it and doing it for me is very easy.
SHE-SHE-SHE: What is the nature of the female team here?
Sarjo: The female team here is not working as it should be because it is abandoned by the football stakeholders. It has been dormant for nearly five years and we have not played a league game as a female team. We do not have sponsors.
This is the way. It is very frustrating that sometimes the only thing that comes to mind is quitting football. Because you will be here for three to four years without playing any game or taking part in any event. They are only interested in male football and the female football teams are abandoned and they hardly organize a league for us.
SHE-SHE-SHE: How many female teams do you have in LRR?
Sarjo: We have one regional team but we have numerous female teams here that can take part in a league. There is no encouragement or support from anywhere including the ministry and the football stakeholders. They will sit for a while and call me saying that they will organize something but it will stop at that phone call. We recently lost our goalkeeper but some of my team mates are here whilst others are married. Reviving it will not be a problem if there is support from the relevant authorities.
SHE: SHE: SHE: Do you get in touch with GFF?
Sarjo: No, the last time NYC had meetings they called me and said they want us to put ourselves together so that they can organize a female league and I tell them, we are here anytime you people are ready you will meet us here but it stopped at phone calls.
SHE: SHE: SHE: What message do you have for the Government and football stakeholders?
Sarjo: Let them remember that we are here and know that when it comes to Gambian football there should be equal treatment for both the male and female teams. There is no gender balance in Gambian football because they give all the attention to the male teams and abandon the female teams. They are organizing leagues for male teams, why can't they do same for the female teams as well? So I am appealing to them to help us realise our dreams of becoming an international female football team and players that will represent the country internationally.
We also need a well-structured team so that any time we have an opportunity to play a game it will be easier to do so without going through the trouble of putting a team together.
SHE: SHE: SHE: Do you receive assistance in terms of football materials?
Sarjo: There is no assistance when it comes to football shoes, jerseys and other relevant materials from anyone. The last jerseys I can remember was in 2007 when I was in Grade 5.
After that I went to Kombo for zonals and we played there and we were given jerseys and after the zonals the jerseys disappeared because they took them back.
The frustration is too much and the lack of support and encouragement makes me want to quit every day but it is just the passion that I have for the game that keeps me going.
Read Other Articles In Article (Archive)