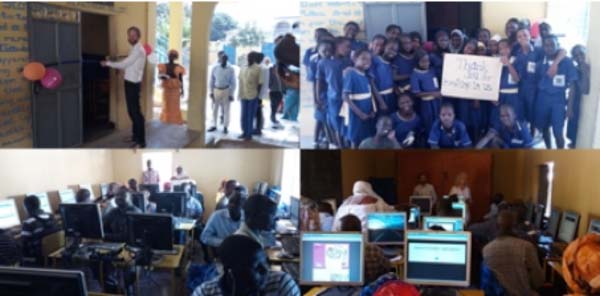 The Swallow Centre for Emancipating Education inaugurated its IT school platform (KUBO) on Tuesday. It functions as a user-friendly, multipurpose platform with all content available off-line for children to access individual learning exercises with content aligned to the official curriculum.

Integrated to the platform, developed by Shane Deconinck, BA student applied informatics – IT Consultancy from Howest University College, Bruges, Belgium are off-line Wikipedia, digital children's reading books and teaching videos from Khan Academy.
Also integrated is the chance for teachers to supervise achievements and progress of pupils, lesson plans, schemes of work and a lot of teaching tools.
The Kubo platform will also deliver tests and exam results will be calculated along with health and behavior data for each child.
The administrator can also access all data, supervise achievements and the progress of all pupils with automatically generated performance graphs per child and per class.
Staff attendance and performance and other management tools can also be integrated.
Exercises are automatically granted according to the level of a child.
The platform leverages innovative and quality content based, accessible low-cost, low-energy, user-friendly, integrated school management, lessons and exercises, health, special needs, community as well as supplying content based upon student data.
Speaking at the inauguration, held at the school ground in Manjai, Shane Deconinck, BA student applied informatics – IT Consultancy from Howest University College, Bruges, Belgium, explained that next to no IT-skills are necessary to operate the system and the device (Raspberry Pi) is available at less cost (D2500) and functions as a full computer.
He further explained that without investment the information can be readily accessed through any smartphone.
Mr Deconinck said they would like to introduce KUBO to other schools, educational institutions and to share their ongoing development of an open school platform with others.
Annette Jaiteh, school coordinator, said their mission was to be a vector for educational impact in The Gambia.
She added that the school provides free, quality education to 230 nursery and primary children, with a free meal every day, free homework, support for slow learners, an integrated health project and youth work.
Madam Jaiteh also expressed delight with the platform, describing it as a revolution.
She further described the platform as really interesting and something that would sharpen schools and the country for quality education.
She observed that the children are having fun and even run after the IT teacher for classes which makes her hopeful.
Read Other Articles In Article (Archive)