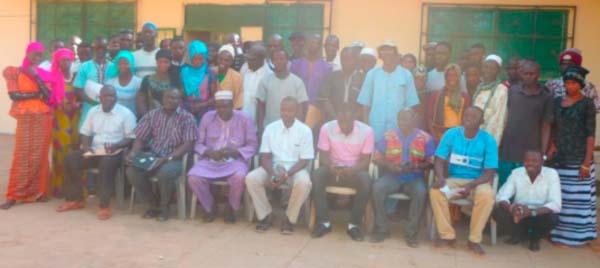 The National Youth Council (NYC) in partnership with the National Enterprise Development Initiative (NEDI) on Sunday 8 January 2017 concluded a five-day entrepreneurship training course for 81 young people.

The training activity, funded by the International Organisation for Migration (IOM) The Gambia office, was held at the Rural Development Institute (RDI) in Mansakonko, Lower River Region.
The training course targeted voluntary returnees and potential migrants among young people across the country, and sought to provide them with a means of livelihood, as motivation to desist from irregular migration, and enable them to productively manage their enterprises.
It was also meant to establish four vibrant youth-led businesses, including poultry projects in Busumbala, Salikenni and Kuntaur, and a gardening project in Nyakoi village, Wuli district, under the IOM-AGAMI project.
Speaking at the opening ceremony, Alagie Jarju, NYC Programme Manager, said the training course was meant to provide young people with basic skills on how to manage their businesses.
Ousman Sonko, Vice Principal of the Rural Development Institute, in his welcome remarks, said enhancing the capabilities of people to free themselves from poverty and servitude is more important than anything else.
Mr Sonko described migration as a livelihood strategy, saying unless governments, institutions and stakeholders provide young people with livelihood strategies, the extent to which they would be able to stop youths migrating would be challenging.
He noted that it is their duty to ensure migrants have skills that would enable them to provide their basic daily needs, since migration is a fundamental human right.
He added that it is important to acquire entrepreneurial skills and livelihood as a lasting solution to unemployment, poverty and other negative social vices.
Landing Sanneh, General Manager of the National Enterprise Development Initiative, for his part, said they all have a stake with regards to migration.
Mr Sanneh urged participants to learn and share with each other during the course of the training session which, he added, could help them in their daily business plans and life.
He also urged them to be committed in others to gain from what they learned at the training course.
He thanked NYC and IOM for recognising the plight of young people, and being ready to develop and enhance their lives for the better.
Lamin Darboe, Executive Director of NYC, in his keynote address, said NYC signed an MoU with the International Organisation for Migration (IOM) last year to work on and address the issue of youth irregular migration.
The partnership has helped them to strengthen their programmes, as well as design new programmes informed by the needs and aspirations of back-way returnees and potential migrants.
He added that these are things they are doing to be able to provide a means of livelihood for young people.
Mr Darboe pointed out that getting resources is not only enough, which was why they organised the training activity for young people, to ensure they are able to effectively use those resources to enable them achieve the objective they set for themselves.
Darboe stated that young people constitute the majority of the population, which should be an asset and a strength, but instead they form part of the vulnerable groups.
He observed that there are challenges, but there are people who made it in the country, saying they are not against migration, but are against the current mass exodus of energetic youths who are all leaving for the unknown.
He urged young people to utilize the opportunities available in the country, adding that the training course was meant to help them get to the next level.
He called on young people to try to make their groups more organised, credible and to be very focused on their objectives.
"As young people, we are required to provide a solution to the problems that exist in our families and communities, and not run away from them and move out of the country," he added.
Lower River Region Governor Salifu Puye, in his opening remarks, said people migrate because they want a decent livelihood.
According to Puye, Africa has more resources than Europe and America, adding that they could develop their businesses and be going to Europe and coming.
He urged the participants to take the training course seriously in order to excel, saying they are youths of today and elders of tomorrow and, as such, should aspire to become responsible parents.
Read Other Articles In Article (Archive)