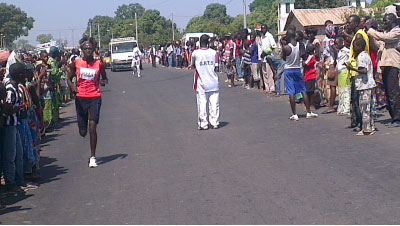 Samba Bah and Mariama T. Jallow grabbed the first positions of both the male and female categories in the first edition of the Bajana marathon competition organised by the Volunteers of the Gambia Tourism, a charitable organization.
The Bajana Congress Marathon was held last Saturday at Bajana village in Foni West Coast Region.
The first edition was competed in by both the female and male categories in which over hundred youths participated. In the male category, Alhagie Bah took second and Demba Marong came out third. In the female side, Njima Marong took second and Mariama Baldeh came out third.
The male ran the distance of 10km, which commenced from Kafuta Primary School to Bajana village, while the female kicked off from the Kafuta forest to Bajana of 5km. Winners of both sexes left with trophies and cash prizes at the end of the competition.
The marathon was followed by a wrestling contest between Boy Jola and Boy Serrer, also held at Bajana village in that evening.
Speaking to The Point, the CEO of the Bajana Congress Marathon, Roy Sanyang, expressed his delight over the successful competition, saying the marathon was also competed in by participants from the UK who were in The Gambia for vacation.
He said the project is meant to help the people of Foni and the surrounding communities and to show that such developments can also take place in Bajana, Foni region.
The main objective is to empower the youth of Foni and Gambian youth in general, he said, adding that there are talented youths that need to be nurtured.
He added that the marathon went on at no cost, for talented youths who could not afford to pay for registration in the marathon.
"We are currently working on sending a participant to partake in the Manchester marathon run in the UK slated for 26 May 2013," he said. "This is to encourage more youths to run in the marathons and to participate globally."
Mr Sanyang thanked the Ministry of Defence, the Gambia Tourism Board, Brikama Area Council and the people of Bajana Village for their support.
He also thanked the Governor of West Coast Region, the Chief of Foni Brefet and the Alkalo of Bajana, who contributed in supporting the marathon.
He however called on philanthropists to support Gambian athletes, saying The Gambia has talented youths who need help to showcase their talents.
Alhagie Bah, the second position holder, commended the association for the initiative. He says in addition to their training, such a competition could help them to showcase their talents.
There used to be only one marathon competition held in a year, he noted, saying the new marathon will also complement the first one in promoting their sport.
"We need exposure so that we can compete globally and this new marathon will count a lot for us as determined athletes," he said.
He added: "It does not help if one competes once in a year, and if various competitions are held in a year, this will brighten the future of Gambian athletes."
Read Other Articles In Article (Archive)